Journey to Beersheba: The Story Behind the Charge of the Light Horse in 1917 and the Re-Enactment in 2007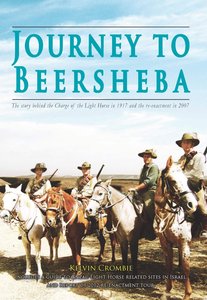 That initial charge on 31 October 1917 was part of the Battle of Beersheba in which British, New Zealand and Australian soldiers defeated the Turkish Army.On that same day the British War Cabinet in London agreed to establish a Jewish National Home in the land of Israel ?once the land had been captured from the Turks.This book reveals the events leading up to what transpired in Beersheba and London on 31 October 1917. The author, Kelvin Crombie, is an Australian, who was the guide for the Australian Light Horse Association re-enactment group.The book also details how he first received an interest in these subjects while growing up in the Australian bush, and how as a young man he went to live in Israel.Woven into his story is an incredible tapestry of events and personalities, which included him becoming a local guide at Christ Church in the Old City of Jerusalem, and conducting his first In Step with Allenby and the Light Horse ?our?in 1988.As the historical tapestry was wonderfully displayed in the events of 31 October 1917, the tapestry in his own personal journey to Beersheba was in many ways completed through the events in Beersheba on 31 October 2007.?

- Publisher
You May Also Be Interested In
About "Journey to Beersheba: The Story Behind the Charge of the Light Horse in 1917 and the Re-Enactment in 2007"
That initial charge on 31 October 1917 was part of the Battle of Beersheba in which British, New Zealand and Australian soldiers defeated the Turkish Army.On that same day the British War Cabinet in London agreed to establish a Jewish National Home in the land of Israel ?once the land had been captured from the Turks.This book reveals the events leading up to what transpired in Beersheba and London on 31 October 1917. The author, Kelvin Crombie, is an Australian, who was the guide for the Australian Light Horse Association re-enactment group.The book also details how he first received an interest in these subjects while growing up in the Australian bush, and how as a young man he went to live in Israel.Woven into his story is an incredible tapestry of events and personalities, which included him becoming a local guide at Christ Church in the Old City of Jerusalem, and conducting his first In Step with Allenby and the Light Horse ?our?in 1988.As the historical tapestry was wonderfully displayed in the events of 31 October 1917, the tapestry in his own personal journey to Beersheba was in many ways completed through the events in Beersheba on 31 October 2007.?
- Publisher


Meet the Author
Kelvin Crombie
Kelvin Crombie lived in Israel for almost 25 years, 20 of those as a local guide and researcher based at Christ Church inside the Old City of Jerusalem, and was instrumental in locating the 'Montgomery Bible'.