Joy is a Choice You Can Make Today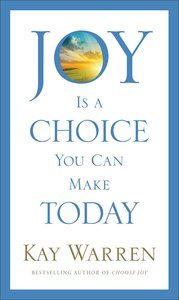 :In Choose Joy, Kay Warren showed readers that they could live a life characterized by deep and lasting joy no matter what their circumstances because joy is a choice to make, not a feeling that comes over them. Joy Is a Choice You Can Make Today is a small format book drawn from the first three chapters of Choose Joy. Illuminating the life of Jesus--a life that exhibited great joy despite opposition, sorrow, and pain--Warren shows readers that God created them not for hardship or drudgery or struggle, but for a life of joyful relationship with him and with each other. A perfect giveaway for churches, small groups, and individuals who want to encourage a friend, Created for Joy gives readers a solid foundation for the life of joy they crave and introduces them to Kay Warren's rich, life-changing writing.

- Publisher
You May Also Be Interested In
About "Joy is a Choice You Can Make Today"
:In Choose Joy, Kay Warren showed readers that they could live a life characterized by deep and lasting joy no matter what their circumstances because joy is a choice to make, not a feeling that comes over them. Joy Is a Choice You Can Make Today is a small format book drawn from the first three chapters of Choose Joy. Illuminating the life of Jesus--a life that exhibited great joy despite opposition, sorrow, and pain--Warren shows readers that God created them not for hardship or drudgery or struggle, but for a life of joyful relationship with him and with each other. A perfect giveaway for churches, small groups, and individuals who want to encourage a friend, Created for Joy gives readers a solid foundation for the life of joy they crave and introduces them to Kay Warren's rich, life-changing writing.
- Publisher


Meet the Author
Kay Warren
Kay Warren, cofounder of Saddleback Church with her husband, Rick, is an international speaker, best-selling author and Bible teacher who has a passion for inspiring and motivating others to make a difference with their lives.

She is best known for her 10 years as a tireless advocate for those living with HIV and AIDS, and the orphaned and vulnerable children left behind. As an advocate, she has traveled to 19 countries, calling the faith community as well as the public and private sectors to respond with prevention, care, treatment and support of people living with the virus.

Kay is author of several books including her newest Choose Joy: Because Happiness Isn't Enough, which was adapted from a Bible study she first taught at Saddleback Church in July 2011, drawing more than 5,000 women for the four-week sessions. In the book, Kay describes how painful experiences - two bouts of cancer, watching as life-threatening illnesses attacked her children and grandchildren and living with mild depression most of her life have shaped her conviction that joy is a choice and within the reach of every person, no matter how desperate or dark circumstances may be.

She is also author of Dangerous Surrender, which was originally released in 2007 and revised, expanded and published as Say Yes to God in 2010, and coauthor of Foundations: 11 Core Truths to Build Your Life On with Pastor Tom Holladay in 2004.

Additionally, Kay has also written for Christianity Today, Purpose Driven Life, CNN.com and The Washington Post, and has been featured in Newsweek, Reader's Digest, Guideposts, Sojourners, POZ and Today's Christian Woman magazines, among others.

Kay attended California Baptist College and earned her B.A. from California State University, Los Angeles. She is mother to Amy, Joshua and Matthew, and grandmother to Kaylie, Cassidy, Caleb, Cole and Claire.