Joy That Lasts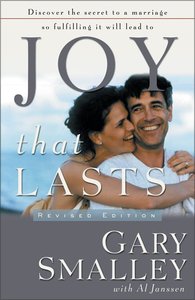 Discover what it means to truly trust God, and how a deep relationship with him can bring life and joy into marriage Renowned family counselor, seminar speaker, and author Gary Smalley gives insight into five truths that can transform marriage. Sharing openly from his own relationship with his wife, Norma, Gary shows why both husbands and wives need * An independent energy source to recharge their spiritual batteries * Someone each can talk to about anything and at any time * An understanding of their emotions and what they mean * Reassurance that their trials have meaning * A shared mission they can strive for together

- Publisher A renowned family counselor gives insight into five truths that can transform a marriage. Now in paperback, this updated edition shows readers what it means to trust God and how a deep relationship with Him can bring life and joy into marriage.

- Publisher
You May Also Be Interested In
About "Joy That Lasts"
Discover what it means to truly trust God, and how a deep relationship with him can bring life and joy into marriage Renowned family counselor, seminar speaker, and author Gary Smalley gives insight into five truths that can transform marriage. Sharing openly from his own relationship with his wife, Norma, Gary shows why both husbands and wives need * An independent energy source to recharge their spiritual batteries * Someone each can talk to about anything and at any time * An understanding of their emotions and what they mean * Reassurance that their trials have meaning * A shared mission they can strive for together
- Publisher

A renowned family counselor gives insight into five truths that can transform a marriage. Now in paperback, this updated edition shows readers what it means to trust God and how a deep relationship with Him can bring life and joy into marriage.
- Publisher


Meet the Authors
Gary Smalley
Gary Smalley, one of the foremost experts on family relationships, has written or co-written 28 best-selling, award winning books selling over six millions copies, as well as several popular films and videos, based on more than 30 years of experience as a teacher, counsellor and speaker. The Blessing and The Two Sides of Love have won Gold Medallions, The Language of Love won the Angel Award as the best contribution to family life and all other titles have been top-five finalists for the Gold Medallion Award. His latest book is the DNA of Relationships. Gary and his wife, Norma, have been married for over thirty years.
Al Janssen
Brother Andrew began taking Bibles to Christians behind closed borders in 1955. That work has since developed into Open Doors International. He is the author and coauthor of numerous books, including God's Smuggler. Brother Andrew makes his home in the Netherlands. Al Janssen has co-written or authored more than twenty-five books, including Light Force. He is chairman of the board for Open Doors (USA) with Brother Andrew and is director of communications for Open Doors International. Janssen lives in Colorado Springs, Colorado.