Judges/Ruth (Niv Application Commentary Series)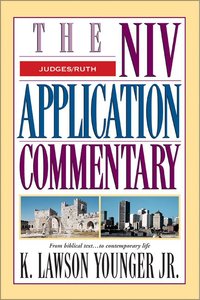 $39.99
$31.99
You Save: $8.00 (20%)
Hardback
The concept of judgment is at odds with our culture, largely perhaps because of the fallibility of those who judge. Dr Younger shares literary perspectives on the books of Judges and Ruth that reveal ageless truths concerning sin, judgment and deliverance.
You May Also Be Interested In
This item is in the following kit
About "Judges/Ruth (Niv Application Commentary Series)"
The concept of judgment is at odds with our culture, largely perhaps because of the fallibility of those who judge. Dr Younger shares literary perspectives on the books of Judges and Ruth that reveal ageless truths concerning sin, judgment and deliverance.
- Koorong

The concept of judgment is at odds with today's culture, which considers it a sin to suggest there is such a thing as sin. Perhaps that is partly because we have seen all too clearly the fallibility of those who judge. What many of us long for is not judgment but righteousness and deliverance from oppression. That is why the books of Judges and Ruth are so relevant today: Judges, because it reveals a God who employs very human deliverers but refuses to gloss over their sins and the consequences of those sins; and Ruth, because it demonstrates the far-reaching impact of a righteous character.Exploring the links between the Bible and our own times, Dr. K. Lawson Younger Jr. shares literary perspectives on the books of Judges and Ruth that reveal ageless truths for our twenty-first-century lives.Most Bible commentaries take us on a one-way trip from our world to the world of the Bible. But they leave us there, assuming that we can somehow make the return journey on our own. They focus on
- Publisher

Most commentary series take you back to the world of the Bible and leave you there. This one helps you return to contemporary life equipped with plenty of encouragement and practical applications. The newest edition, Judges--Ruth, explores the drama, turmoil, and passion of these literary masterpieces, bringing their ancient message into our postmodern context.
- Publisher


Meet the Author
K Lawson Younger
K. Lawson Younger Jr. is professor of Old Testament, Semitic Languages, and Ancient Near Eastern History at Trinity Evangelical Divinity School in Deerfield, Illinois. Dr. Younger is the author of 'Ancient Conquest Accounts: A Study of Near Eastern and Biblical History Writing', the 'NIV Application Commentary on Judges and Ruth' and co-editor of 'The Canon in Comparative Perspective'. He has edited numerous publications, including 'The Context of Scripture. Volumes I: Canonical Compositions from the Biblical World', 'The Context of Scripture. Volume II: Monumental Compositions from the Biblical World', 'The Context of Scripture. Volume III: Archival Documents from the Biblical World.'
Table Of Contents
9

Series Introduction

13

General Editor's Preface

15

Author's Preface

17

Abbreviations

21

Introduction To Judges

49

Outline Of Judges

50

Bibliography On Judges

59

Text And Commentary On Judges

389

Introduction To Ruth

405

Outline Of Ruth

406

Bibliography On Ruth

411

Text And Commentary On Ruth

492

Scripture Index

503

Subject Index

506

Author Index
Other Titles In The "Niv Application Commentary" Series View All