Julia's Last Hope (#02 in Women Of The West (Oke) Series)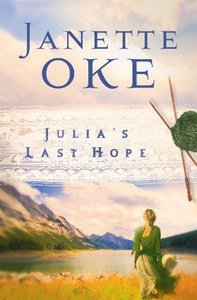 The only thing she has left is her faith in God. . . . Is it enough? With the closing of the Calder Springs' timber mill, most of the town's residents are left unemployed. Several families, realizing the lack of a future in the small mountain town, soon decide to relocate. But not the Harrigan family. Although John has lost his job at the mill, he and his wife, Julia, make the decision to stay in their beautiful home with their twin daughters. Eastern-educated Julia searches for a way to bring business and people back to Calder Springs--a task she feels God leading her to accomplish. Will her faith and determination carry her through the challenges and setbacks she'll face?

- Publisher JANETTE OKE is the beloved, bestselling author of more than sixty books. Her writing has earned her the Christy Award for excellence in Christian Fiction, a number of Gold Medallion Awards, and two honorary awards for her significant contribution to the Christian book industry. Janette and her husband, Edward, live in Calgary, Alberta. Visit janetteoke.com.

- Publisher
You May Also Be Interested In
About "Julia's Last Hope (#02 in Women Of The West (Oke) Series)"
The only thing she has left is her faith in God. . . . Is it enough? With the closing of the Calder Springs' timber mill, most of the town's residents are left unemployed. Several families, realizing the lack of a future in the small mountain town, soon decide to relocate. But not the Harrigan family. Although John has lost his job at the mill, he and his wife, Julia, make the decision to stay in their beautiful home with their twin daughters. Eastern-educated Julia searches for a way to bring business and people back to Calder Springs--a task she feels God leading her to accomplish. Will her faith and determination carry her through the challenges and setbacks she'll face?
- Publisher

JANETTE OKE is the beloved, bestselling author of more than sixty books. Her writing has earned her the Christy Award for excellence in Christian Fiction, a number of Gold Medallion Awards, and two honorary awards for her significant contribution to the Christian book industry. Janette and her husband, Edward, live in Calgary, Alberta. Visit janetteoke.com.
- Publisher


Meet the Author
Janette Oke
Janette Oke was born in Champion, Alberta, Canada, during the depression years. She graduated from Mountain View Bible College in Alberta where she met her husband, Edward. They married in 1957 and served in churches in Calgary and Edmonton, Canada, and Indiana. Oke writes historical novels which portray the lives of early North American settlers from many walks of life and geographical settings. She also writes engaging children's stories and inspiring gift books that warm the heart. Oke published her first book, Love Comes Softly, in 1979. This book experienced immediate success and became a series. She has won a number of awards including the Gold Medallion Award, The Christy Award of Excellence, the 1992 Presidents Award for her significant contribution to the category of Christian fiction from the Evangelical Christian Publishers Association, and in 1999, the Life Impact Award from the Christian Booksellers Association International. Her books have been translated into fourteen languages. Oke has published some 75 books including, The Canadian West, Seasons of the Heart and Women of the West. Her most recent releases include a beautiful childrens picture book, I Wonder...Did Jesus Have a Pet Lamb and The Songs of Acadia series, co-written with T. Davis Bunn. - Publisher.
Other Titles In The "Women Of The West (Oke) Series" Series View All