Just Courage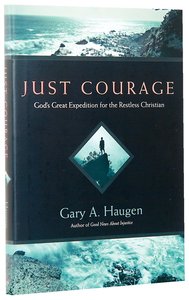 "There must be more to the Christian Life than this - more than church each Sunday and waving to my neighbors and giving some clothes to Goodwill when I go through my closet each spring. These aren't bad things, of course. But they're safe and comfortable and easy. And there's a reason they're not satisfying your desire for something more significant and meaningful - we're created by God for adventure."

International Justice Mission president Gary Haugen has found that engaging in the fight for justice is the most deeply satisfying way of life. This book shows how we too can be a part of God's great expedition.

- Book cover

- Publisher "Just Courageshines like exit-lighting, leading me out of the guilt-laden, often overwhelming conversations about what I should be doing, to the life-giving redemptive promises about my life as a follower of Jesus Christ. Gary Haugen speaks beautifully and directly to the truth that entering into justice work is not optional in the life of the believer, but is the realization of our deepest faith and desires to live lives of significance. The most important truth that I have taken from this book and from the work of IJM is this: the same suffering of others that caused me to question the goodness of God is now the conduit for truly understanding the goodness of God. There are profound aspects of his call and character that I cannot grasp, until I enter into the suffering of others."

- Publisher
You May Also Be Interested In
About "Just Courage"
"There must be more to the Christian Life than this - more than church each Sunday and waving to my neighbors and giving some clothes to Goodwill when I go through my closet each spring. These aren't bad things, of course. But they're safe and comfortable and easy. And there's a reason they're not satisfying your desire for something more significant and meaningful - we're created by God for adventure."

International Justice Mission president Gary Haugen has found that engaging in the fight for justice is the most deeply satisfying way of life. This book shows how we too can be a part of God's great expedition.

- Book cover
- Publisher

"Just Courageshines like exit-lighting, leading me out of the guilt-laden, often overwhelming conversations about what I should be doing, to the life-giving redemptive promises about my life as a follower of Jesus Christ. Gary Haugen speaks beautifully and directly to the truth that entering into justice work is not optional in the life of the believer, but is the realization of our deepest faith and desires to live lives of significance. The most important truth that I have taken from this book and from the work of IJM is this: the same suffering of others that caused me to question the goodness of God is now the conduit for truly understanding the goodness of God. There are profound aspects of his call and character that I cannot grasp, until I enter into the suffering of others."
- Publisher


Meet the Author
Gary Haugen
Gary A. Haugen (J.D. University of Chicago, cum laude,) is president and CEO of International Justice Mission (IJM), a human rights organization based in Washington, D.C. Prior to founding IJM, he worked in the civil rights division of the U.S. Department of Justice and was director of the United Nations genocide investigation in Rwanda. He also served as the Visiting Scholar in Politics at the University of Adelaide in Australia. He is the author of Just Courage: God's Great Expedition for the Restless Christian and Good News About Injustice .
Table Of Contents
1 Going On The Journey But Missing The Adventure

2 From Rescued To Rescuer

3 The Surprising Path To Courage

4 The God Of Justice

5 Just Worship

6 Loving God And Our Neighbor

7 Charging The Darkness

8 The Witness Of One

9 Seizing The Gift Of Courage

10 Would You Rather Be Safe Or Brave?

Appendix 1: Partnering With International Justice Mission

Appendix 2: Further Resources

Questions For Discussion And Reflection

Acknowledgments