Just Look Up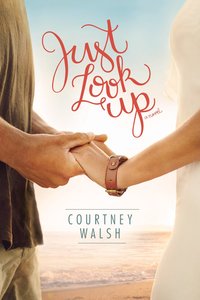 $

20.99

$

16.79
You Save: $4.20 (20%)
Paperback
:After tirelessly climbing the ranks of her Chicago-based interior design firm, Lane Kelley is about to land her dream promotion when devastating news about her brother draws her back home a quaint tourist town full of memories she d just as soon forget. With her cell phone and laptop always within reach, Lane aims to check on her brother while staying focused on work something her eclectic family doesn t understand.

Ryan Brooks never expected to settle down in Harbor Pointe, Michigan, but after his final tour of duty, it was the only place that felt like home. Now knee-deep in a renovation project that could boost tourism for the struggling town, he is thrilled to see Lane, the girl he secretly once loved, even if the circumstances of her homecoming aren t ideal.

Their reunion gets off to a rocky start, however, when Ryan can t find a trace of the girl he once knew in the woman she is today. As he slowly chips away at the walls Lane has built, secrets from his past collide with a terrible truth even he is reluctant to believe. Facing a crossroads that could define his future with Lane and jeopardize his relationship with the surrogate family he's found in the Kelleys, Ryan hopes Lane can see that maybe what really matters has been right in front of her all along if only she d just look up.

- Publisher
You May Also Be Interested In
About "Just Look Up"
:After tirelessly climbing the ranks of her Chicago-based interior design firm, Lane Kelley is about to land her dream promotion when devastating news about her brother draws her back home a quaint tourist town full of memories she d just as soon forget. With her cell phone and laptop always within reach, Lane aims to check on her brother while staying focused on work something her eclectic family doesn t understand.

Ryan Brooks never expected to settle down in Harbor Pointe, Michigan, but after his final tour of duty, it was the only place that felt like home. Now knee-deep in a renovation project that could boost tourism for the struggling town, he is thrilled to see Lane, the girl he secretly once loved, even if the circumstances of her homecoming aren t ideal.

Their reunion gets off to a rocky start, however, when Ryan can t find a trace of the girl he once knew in the woman she is today. As he slowly chips away at the walls Lane has built, secrets from his past collide with a terrible truth even he is reluctant to believe. Facing a crossroads that could define his future with Lane and jeopardize his relationship with the surrogate family he's found in the Kelleys, Ryan hopes Lane can see that maybe what really matters has been right in front of her all along if only she d just look up.
- Publisher


Meet the Author
Courtney Walsh
Courtney Walsh is the author of two Memory Makers books, "Scrapbooking Your Faith" and "The Busy Scrapper". Her work has appeared in "Memory Makers Magazine" (where she was contributing editor) and "Scrapbooks Etc.", and "Creating Keepsakes". She is also a novelist in the process of writing a series of books, each with a scrapbooking element.
Customer Reviews For "Just Look Up"
Write Your Own Review
Title works on many levels
By Iola,

Oct 22 2017
I requested a review copy of Just Look Up because I'd heard so many good things about it. Surely it couldn't possibly measure up?

It did.

To me, Just Look Up showed the lie that many of us believe in our teenage years.
The lie that we don't fit in because aren't good enough. Lane was different to the others in her family-lactose intolerant in a family that made and sold cheese for a living, unattractive and unpopular (or so she thought) in a family that were attractive and popular.

What especially hurt for Lane was that her family perpetuated the lie through their 'harmless' name calling ('Pudge' is not term of endearment. Ever). The result, I think, was a teenager and adult who never understood how precious she was to God, because she never felt she was precious to her family.

Overall, Just Look Up is a story about how achieving our dreams might not be everything we thought it might be, but the answer might have been in front of us all along. Recommended. 

Thanks to Tyndale Books and NetGalley for providing a free ebook for review.
{{review.title}}
By {{review.author.name}},

{{review.reviewCreatedDate | date:'MMM dd yyyy'}}

{{reviewdescription}}
{{review.text}}
---