Just Sayin'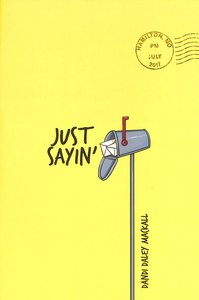 :Just Sayin tells the story of an almost-blended family that almost falls apart before it even begins. 11 year-old Cassie Callahan is staying with her grandmother while her mom, Jennifer, recovers from a difficult breakup from her fianc??, Trent. Cassie, along with Trent's kids, Nick and Julie, are trying to figure out why their parents relationship ended so abruptly and searching for a way to bring them back together. Meanwhile, the kids get caught up in a game show that encourages the art of insults, and learn along the way that our words have much more power than they think.

In a way that only Dandi can accomplish, this story weaves together, in a contemporary way, an old-time game show, letter writing, outstanding vocabulary, and reminders from God's word that taming our tongue is both difficult and important!

- Publisher
You May Also Be Interested In
About "Just Sayin'"
:Just Sayin tells the story of an almost-blended family that almost falls apart before it even begins. 11 year-old Cassie Callahan is staying with her grandmother while her mom, Jennifer, recovers from a difficult breakup from her fianc??, Trent. Cassie, along with Trent's kids, Nick and Julie, are trying to figure out why their parents relationship ended so abruptly and searching for a way to bring them back together. Meanwhile, the kids get caught up in a game show that encourages the art of insults, and learn along the way that our words have much more power than they think.

In a way that only Dandi can accomplish, this story weaves together, in a contemporary way, an old-time game show, letter writing, outstanding vocabulary, and reminders from God's word that taming our tongue is both difficult and important!
- Publisher


Meet the Author
Dandi Daley Mackall
Dandi Daley Mackall has published about 300 books for children and adults.She has authored the I'm Not Afraid Series and served as creative director for the TodaysGirls.com series. She also wrote the seasonal favorites, Off to Plymouth Rock, Merry Creature Christmas, and Journey Easter Journey.She's written a humorist column and served as freelance editor. She conducts writing assemblies, workshops, and Young Author programs across the U.S. Dandi writes from rural Ohio, where she lives with her husband, Joe, and three children, Jen, Katy, and Dan.- Publisher.