Justice Betrayed (#03 in A Memphis Cold Case Novel Series)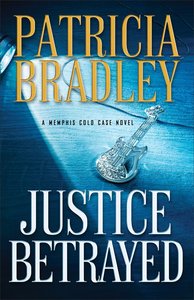 It's Elvis Week in Memphis, and homicide Detective Rachel Sloan isn't sure her day could get any stranger when aging Elvis impersonator Vic Vegas asks to see her. But when he produces a photo of her murdered mother with four Elvis impersonators--one of whom had also been murdered soon after the photo was taken--she's forced to reevaluate. Is there some connection between the two unsolved cases? And could the recent break-in at Vic's home be tied to his obsession with finding his friend's killer?

When yet another person in the photo is murdered, Rachel suddenly has her hands full investigating three cases. Lieutenant Boone Callahan offers his help, but their checkered romantic past threatens to get in the way. Can they solve the cases before the murderer makes Rachel victim number four?

- Publisher
You May Also Be Interested In
About "Justice Betrayed (#03 in A Memphis Cold Case Novel Series)"
It's Elvis Week in Memphis, and homicide Detective Rachel Sloan isn't sure her day could get any stranger when aging Elvis impersonator Vic Vegas asks to see her. But when he produces a photo of her murdered mother with four Elvis impersonators--one of whom had also been murdered soon after the photo was taken--she's forced to reevaluate. Is there some connection between the two unsolved cases? And could the recent break-in at Vic's home be tied to his obsession with finding his friend's killer?

When yet another person in the photo is murdered, Rachel suddenly has her hands full investigating three cases. Lieutenant Boone Callahan offers his help, but their checkered romantic past threatens to get in the way. Can they solve the cases before the murderer makes Rachel victim number four?
- Publisher


Meet the Author
Patricia Bradley
Patricia Bradley's manuscript for "Shadows of the Past" was a finalist for the 2012 Genesis Award, winner of a 2012 Daphne du Maurier award (1st place, Inspirational), and winner of a 2012 Touched by Love award (1st place, Contemporary). She is a published short story writer and is cofounder of Aiming for Healthy Families, Inc. When she's not writing or speaking, she can be found making beautiful clay pots and jewelry. She is a member of American Christian Fiction Writers and Romance Writers of America and makes her home in Mississippi. Learn more at www.ptbradley.com.
Other Titles In The "A Memphis Cold Case Novel Series" Series View All