Justice Buried (#02 in A Memphis Cold Case Novel Series)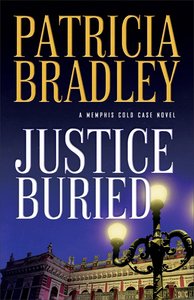 :In an effort to get her security consulting business off the ground, Kelsey Allen has been spending a lot of time up in the air, rappelling down buildings and climbing through windows to show business owners their vulnerabilities to thieves. When she is hired to pose as a conservator at the Pink Palace Museum in order to test their security weaknesses after some artifacts go missing, she's ecstatic. But when her investigative focus turns from theft to murder, Kelsey knows she's out of her league--and possibly in the cross hairs. When blast-from-the-past Detective Brad Hollister is called in to investigate, Kelsey may find that he's the biggest security threat yet ... to her heart.

Crackling with romantic tension and laced with intrigue, this suspenseful story from award-winning author Patricia Bradley will keep readers guessing--and looking over their shoulders.

- Publisher
You May Also Be Interested In
About "Justice Buried (#02 in A Memphis Cold Case Novel Series)"
:In an effort to get her security consulting business off the ground, Kelsey Allen has been spending a lot of time up in the air, rappelling down buildings and climbing through windows to show business owners their vulnerabilities to thieves. When she is hired to pose as a conservator at the Pink Palace Museum in order to test their security weaknesses after some artifacts go missing, she's ecstatic. But when her investigative focus turns from theft to murder, Kelsey knows she's out of her league--and possibly in the cross hairs. When blast-from-the-past Detective Brad Hollister is called in to investigate, Kelsey may find that he's the biggest security threat yet ... to her heart.

Crackling with romantic tension and laced with intrigue, this suspenseful story from award-winning author Patricia Bradley will keep readers guessing--and looking over their shoulders.
- Publisher


Meet the Author
Patricia Bradley
Patricia Bradley's manuscript for "Shadows of the Past" was a finalist for the 2012 Genesis Award, winner of a 2012 Daphne du Maurier award (1st place, Inspirational), and winner of a 2012 Touched by Love award (1st place, Contemporary). She is a published short story writer and is cofounder of Aiming for Healthy Families, Inc. When she's not writing or speaking, she can be found making beautiful clay pots and jewelry. She is a member of American Christian Fiction Writers and Romance Writers of America and makes her home in Mississippi. Learn more at www.ptbradley.com.
Media
Other Titles In The "A Memphis Cold Case Novel Series" Series View All