Justification and the Gospel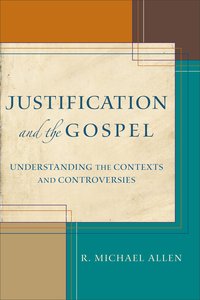 Seeking to move beyond current heated debates on justification, this accessible introduction offers a fresh, alternative approach to a central theological topic. Michael Allen locates justification within the wider context of the gospel, allowing for more thoughtful engagement with the Bible, historical theology, and the life of the church. Allen considers some of the liveliest recent debates as well as some overlooked connections within the wider orbit of Christian theology. He provides a historically informed, ecumenically minded defense of orthodox theology, analyzing what must be maintained and what should be reconfigured from the vantage point of systematic theology. The book exemplifies the practice of theological interpretation of Scripture and demonstrates justification's relevance for ongoing issues of faith and practice.

- Publisher
You May Also Be Interested In
About "Justification and the Gospel"
Seeking to move beyond current heated debates on justification, this accessible introduction offers a fresh, alternative approach to a central theological topic. Michael Allen locates justification within the wider context of the gospel, allowing for more thoughtful engagement with the Bible, historical theology, and the life of the church. Allen considers some of the liveliest recent debates as well as some overlooked connections within the wider orbit of Christian theology. He provides a historically informed, ecumenically minded defense of orthodox theology, analyzing what must be maintained and what should be reconfigured from the vantage point of systematic theology. The book exemplifies the practice of theological interpretation of Scripture and demonstrates justification's relevance for ongoing issues of faith and practice.
- Publisher


Meet the Author
R Michael Allen
R Michael Allen (Ph.D., Wheaton Graduate School) is Assistant Professor of Theology, Knox Theological Seminary and is the author of The Christ's Faith: A Dogmatic Account, in the new series T. & T. Clark Studies in Systematic Theology and Doing Theology: Reformed Theology (T. & T. Clark ; 2010)
Koorong -Editorial Review.
Table Of Contents
contents

introduction
part 1: Justification And The Gospel
1. The Place Of Justification In Christian Theology
2. Justification And Participation, The Ground And Goal Of The Gospel
part 2: Christ For Us
3. "from The Time He Took On The Form Of A Servant": The Christ's Pilgrimage Of Faith
4. "it Is No Longer I Who Live": Christ's Faith And Christian Faith
part 3: Christ In Us
5. "freedom For Love": Justification And Sanctification
6. "the Church's One Foundation": The Justification Of The Ungodly Church
indexes