Justified in Christ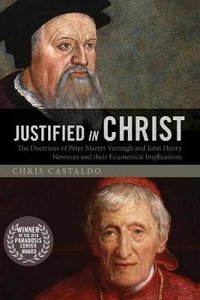 Analyzing and comparing the doctrines of justification held by a legendary nineteenth-century Catholic, John Henry Newman, and an Italian hero of the Reformation, Peter Martyr Vermigli, this book uncovers abiding opportunities, as well as obstacles in the Catholic-Protestant divide. These earnest scholars of the faith were both converts, moving in opposite directions across that divide, and, as a result, were pastorally and theologically influential sources of opposition to their former creeds. In addition to advancing scholarship on several issues associated with Newman's and Vermigli's doctrines, and illuminating reasons and attendant circumstances for conversion across the Tiber, the overall conclusions of this study offer a broader range of soteriological possibilities to ecumenical dialogue among Roman Catholics and Reformed Protestants by clarifying the common ground to which both traditions may lay claim. --Christopher Castaldo has written a deeply original book ... He has convincingly explored the nature and limits of the common ground that can be identified between the Anglican, and then Catholic, Newman writing in Victorian times, and the Italian Protestant exile Peter Martyr Vermigli writing in Tudor England. A journey across such a timespan might seem unlikely to prove fruitful... . Castaldo's achievement is to break fresh ground and show the fruit... . This is a notable contribution to true ecumenism.-- --Dermot Fenlon, Fellow and Tutor of Gonville and Caius College Cambridge and University Lecturer in European History --The doctrine of justification has been a topic of especial interest in Protestant-Catholic dialogue. This study looks at Peter Martyr Vermigli, a Roman Catholic who became a Protestant and influenced the English Reformation, and John Henry Newman, an Evangelical who became a Roman Catholic and also influenced the Church of England. Both wrote on justification and their views are not as different as one might have supposed. Chris Castaldo expounds them skillfully and points to helpful lessons that can be learned for today's situation.-- --Tony Lane, Professor of Historical Theology, London School of Theology --Peter Martyr Vermigli and John Henry Newman appear to be odd fellow-sojourners... . In this book, Chris Castaldo, in addition to providing a useful introduction to both writers, points out how actual similarities (as well as notable differences) are observable in their writings about the doctrine of justification.-- --Kenneth J. Stewart, Professor of Theological Studies, Covenant College --Castaldo understands the doctrine of justification as articulated by both evangelicalism and Catholicism. While the tendency of many today is to rush to emphasize the elements of justification held in common by these two traditions, Chris handles well both the commonalities and the differences. A must-read!-- --Gregg R. Allison, Southern Baptist Theological Seminary Chris Castaldo (PhD) serves as Lead Pastor of New Covenant Church in Naperville, Illinois. Chris blogs at www.chriscastaldo.com.

- Publisher
You May Also Be Interested In
About "Justified in Christ"
Analyzing and comparing the doctrines of justification held by a legendary nineteenth-century Catholic, John Henry Newman, and an Italian hero of the Reformation, Peter Martyr Vermigli, this book uncovers abiding opportunities, as well as obstacles in the Catholic-Protestant divide. These earnest scholars of the faith were both converts, moving in opposite directions across that divide, and, as a result, were pastorally and theologically influential sources of opposition to their former creeds. In addition to advancing scholarship on several issues associated with Newman's and Vermigli's doctrines, and illuminating reasons and attendant circumstances for conversion across the Tiber, the overall conclusions of this study offer a broader range of soteriological possibilities to ecumenical dialogue among Roman Catholics and Reformed Protestants by clarifying the common ground to which both traditions may lay claim. --Christopher Castaldo has written a deeply original book ... He has convincingly explored the nature and limits of the common ground that can be identified between the Anglican, and then Catholic, Newman writing in Victorian times, and the Italian Protestant exile Peter Martyr Vermigli writing in Tudor England. A journey across such a timespan might seem unlikely to prove fruitful... . Castaldo's achievement is to break fresh ground and show the fruit... . This is a notable contribution to true ecumenism.-- --Dermot Fenlon, Fellow and Tutor of Gonville and Caius College Cambridge and University Lecturer in European History --The doctrine of justification has been a topic of especial interest in Protestant-Catholic dialogue. This study looks at Peter Martyr Vermigli, a Roman Catholic who became a Protestant and influenced the English Reformation, and John Henry Newman, an Evangelical who became a Roman Catholic and also influenced the Church of England. Both wrote on justification and their views are not as different as one might have supposed. Chris Castaldo expounds them skillfully and points to helpful lessons that can be learned for today's situation.-- --Tony Lane, Professor of Historical Theology, London School of Theology --Peter Martyr Vermigli and John Henry Newman appear to be odd fellow-sojourners... . In this book, Chris Castaldo, in addition to providing a useful introduction to both writers, points out how actual similarities (as well as notable differences) are observable in their writings about the doctrine of justification.-- --Kenneth J. Stewart, Professor of Theological Studies, Covenant College --Castaldo understands the doctrine of justification as articulated by both evangelicalism and Catholicism. While the tendency of many today is to rush to emphasize the elements of justification held in common by these two traditions, Chris handles well both the commonalities and the differences. A must-read!-- --Gregg R. Allison, Southern Baptist Theological Seminary Chris Castaldo (PhD) serves as Lead Pastor of New Covenant Church in Naperville, Illinois. Chris blogs at www.chriscastaldo.com.
- Publisher


Meet the Author
Chris Castaldo
Chris Castaldo serves as Pastor of Outreach and Church Planting at College Church in Wheaton. He was raised on Long Island, New York as a Roman Catholic and worked full-time in the Catholic Church for years. He has earned degrees from Moody Bible Institute, Gordon-Conwell Theological Seminary (MDiv) and has completed graduate work at Harvard Divinity School. You may visit Chris online at chriscastaldo.com.