Kathryn (#03 in Quarry Hall Series)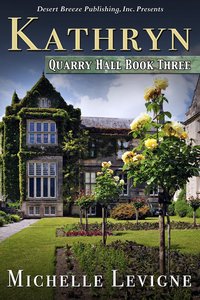 Kathryn's retreat for relaxation and contemplation is interrupted to take a fugitive to safety, beyond the reach of authorities who may be compromised. The injured woman knows her name is Regina, but not why people were shooting at her. The journey to reach a friend in the FBI is complicated when Kathryn's illness requires frequent stops, permitting Regina's pursuers to nip at their heels. When the mountains interfere with cell reception, and she can't stop long enough to make a call for help and advice, Kathryn has only her companion dog, her own wits, and prayer to depend on. Deception waits around every corner and Regina's attitude tests Kathryn's sympathy and her faith.

- Publisher
You May Also Be Interested In
About "Kathryn (#03 in Quarry Hall Series)"
Kathryn's retreat for relaxation and contemplation is interrupted to take a fugitive to safety, beyond the reach of authorities who may be compromised. The injured woman knows her name is Regina, but not why people were shooting at her. The journey to reach a friend in the FBI is complicated when Kathryn's illness requires frequent stops, permitting Regina's pursuers to nip at their heels. When the mountains interfere with cell reception, and she can't stop long enough to make a call for help and advice, Kathryn has only her companion dog, her own wits, and prayer to depend on. Deception waits around every corner and Regina's attitude tests Kathryn's sympathy and her faith.
- Publisher


Meet the Author
Michelle Levigne
Michelle has been a book addict since her Dr. Seuss days, graduating to The Happy Hollisters (juvenile detectives) and The Black Stallion at an early age. In junior high, she became a "pusher" – creating her own stories from her favorite books and TV shows, "rewriting" the unsatisfying ones. Her academic background includes a BA in theater/English from Northwestern College and an MA in communications (film/writing) from Regent University. She came "this close" to selling a script to MacGyver during the last season, and is still trying to take Hollywood by storm – though sometimes it's more like a drizzle. Writing in multiple genres, she has been an EPIC Award finalist nearly every year since 2004, winning in 2006 with Lorien. A native of Northeast Ohio, she is a freelance editor by day, writing novels, short stories and scripts by night.
Other Titles In The "Quarry Hall" Series View All
$4.17

Nett


Available for immediate download.