Keep Your Greek: Strategies For Busy People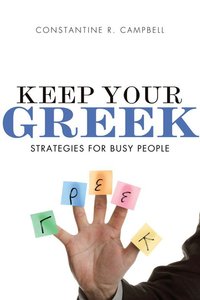 Seminarians spend countless hours mastering biblical languages and learning how the knowledge of them illuminates the reading, understanding, and application of Scripture. But while excellent language acquisition resources abound, few really teach students how to maintain their use of Greek for the long term. Consequently, pastors and other former Greek students find that under the pressures of work, ministry, preaching, and life, their hard-earned Greek skills begins to disappear. Con Campbell has been counseling one-time Greek students for years, teaching them how to keep their language facility for the benefit of those to whom they minister and teach. He shows how following the right principles makes it possible for many to retain---and in some cases regain---their Greek language skills. Pastors will find Keep Your Greek an encouraging and practical guide to strengthening their Greek abilities so that they can make linguistic insights a regular part of their study and teaching. Current students will learn how to build skills that will serve them well once they complete their formal language instruction.

- Publisher
You May Also Be Interested In
About "Keep Your Greek: Strategies For Busy People"
Seminarians spend countless hours mastering biblical languages and learning how the knowledge of them illuminates the reading, understanding, and application of Scripture. But while excellent language acquisition resources abound, few really teach students how to maintain their use of Greek for the long term. Consequently, pastors and other former Greek students find that under the pressures of work, ministry, preaching, and life, their hard-earned Greek skills begins to disappear. Con Campbell has been counseling one-time Greek students for years, teaching them how to keep their language facility for the benefit of those to whom they minister and teach. He shows how following the right principles makes it possible for many to retain---and in some cases regain---their Greek language skills. Pastors will find Keep Your Greek an encouraging and practical guide to strengthening their Greek abilities so that they can make linguistic insights a regular part of their study and teaching. Current students will learn how to build skills that will serve them well once they complete their formal language instruction.
- Publisher


Meet the Author
Constantine R Campbell
Constantine R. Campbell (Ph.D., Macquarie University) is Professor of New Testament at Trinity Evangelical Divinity School, Deerfield, Illinois. Previously, Dr Campbell was senior lecturer in Greek and New Testament at Moore Theological College in Sydney, Australia.

Dr Campbell is the author of numerous scholarly works on New Testament Greek: Basics of Verbal Aspect in Biblical Greek (Zondervan, 2008); Verbal Aspect and Non-Indicative Verbs: Further Soundings in the Greek of the New Testament (Peter Lang, 2008); Verbal Aspect, the Indicative Mood, and Narrative: Soundings in the Greek of the New Testament (Peter Lang, 2007) and Keep Your Greek: Strategies for Busy People (Zondervan, 2010); Colossians and Philemon: A Handbook on the Greek Text (Baylor University Press, 2013); Advances in the Study of Greek: New Insights for Reading the New Testament (Zondervan, 2015); and, with Richard J Gibson, Reading Biblical Greek Workbook: A Translation Guide to Mark 1-4 (Zondervan, 2017), and Reading Biblical Greek: A Grammar for Students (Zondervan, 2017).

Dr Campbell has also authored other works ranging from commentary and theology to gospel outreach, including: Paul and Union with Christ: An Exegetical and Theological Study (Zondervan, 2012), winner of the 2014 Christianity Today Book Awards; Outreach and the Artist: Sharing the Gospel with the Arts (Zondervan, 2013), 1, 2 & 3 John: The Story of God Bible Commentary (Zondervan, 2017), and Not Ashamed: 2 Timothy (Aquila, 2008).

In addition to his achievements in scholarship and teaching, Dr Campbell is a gifted jazz saxophonist, who continues to play at professional level, and has recorded with such talents as James Morrison and The Idea of North. Dr Campbell is also the presenter of a seven-part documentary series In Pursuit of Paul the Apostle.

Dr Campbell lives in Illinois with his wife and three children.