Kelly Tough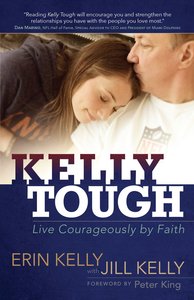 $

18.99

$

15.19
You Save: $3.80 (20%)
Paperback
Kelly Tough is an intimate, deeply personal account of life inside the Kelly family. The book shares the heart of a young woman--the oldest Kelly daughter, Erin--who has experienced the loss of a sibling and stood by her father's side as he battled cancer. Never-before-shared photos, journals, and stories will be revealed. Readers will go behind the scenes with the Kelly family and experience their private struggles and failures as well as their determination and passion. In this book, readers will see a close-knit family who is not exempt from the realities and struggles of life. How they choose to approach the situations they face shows a real, lasting love and hope that digs deep and goes beyond this temporary life. Kelly Tough is a story of finding strength in weakness, hope in the midst of heartache, and joy in spite of suffering.

- Publisher
You May Also Be Interested In
About "Kelly Tough"
Kelly Tough is an intimate, deeply personal account of life inside the Kelly family. The book shares the heart of a young woman--the oldest Kelly daughter, Erin--who has experienced the loss of a sibling and stood by her father's side as he battled cancer. Never-before-shared photos, journals, and stories will be revealed. Readers will go behind the scenes with the Kelly family and experience their private struggles and failures as well as their determination and passion. In this book, readers will see a close-knit family who is not exempt from the realities and struggles of life. How they choose to approach the situations they face shows a real, lasting love and hope that digs deep and goes beyond this temporary life. Kelly Tough is a story of finding strength in weakness, hope in the midst of heartache, and joy in spite of suffering.
- Publisher


Meet the Authors
Erin Kelly
Erin Kelly is Assistant Professor of Philosophy at Tufts University.
Jill Kelly
Jill Kelly is the wife of former Buffalo Bills quarterback Jim Kelly. In September 1997, three months after their infant son, Hunter, was diagnosed with a fatal disease called Krabbe Leukodystrophy, Jim and Jill founded the Hunter's Hope Foundation. As chairman of the board of Hunter's Hope, Jill helps children suffering from Leukodystrophy and their families by raising awareness and research funds to fight this devastating disease. She and Jim live in Buffalo, NY, with their two daughters and three dogs. Hunter's Hope Foundation can be found online at http://www.huntershope.org . Half of all royalties will go to the Hunter's Hope Foundation. Jill is also the author of a full color gift book entitled, Prayers for Those Who Grieve.