Keys For Change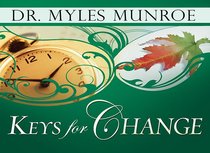 Filled with motivating insights and practical advice, these inspiring quotes from best-selling author Dr. Myles Munroe provide wisdom for living your life according to God's purposes. Keys for Change highlights vital principles for seasons of change and how you can maximize the benefits of change?whether the change seems positive or negative?enabling you to thrive while fulfilling your purpose in life. As you meditate on these truths, your mind will be renewed and your life will be transformed. You will understand the Creator's original design so you can fulfill your unique, God-given purpose in the world with joy and confidence.

- Publisher
You May Also Be Interested In
About "Keys For Change"
Filled with motivating insights and practical advice, these inspiring quotes from best-selling author Dr. Myles Munroe provide wisdom for living your life according to God's purposes. Keys for Change highlights vital principles for seasons of change and how you can maximize the benefits of change?whether the change seems positive or negative?enabling you to thrive while fulfilling your purpose in life. As you meditate on these truths, your mind will be renewed and your life will be transformed. You will understand the Creator's original design so you can fulfill your unique, God-given purpose in the world with joy and confidence.
- Publisher


Meet the Author
Myles Munroe
Dr. Myles Munroe (1954-2014) was an ordained Pentecotal minister, the Founder, President, and Senior Pastor of Bahamas Faith Ministries International, an all-encompassing network of ministries headquartered in Nassau, Bahamas. He was a multi-gifted international motivational speaker, prolific best-selling author and sought-after business consultant. His books and presentations comprehensively address many aspects of human, social and spiritual development.
Table Of Contents
Filled With Motivating Insights And Practical Advice, These Inspiring Quotes From Best-selling Author Dr. Myles Munroe Provide Wisdom For Living Your Life According To God's Purposes. Keys For Change Highlights Vital Principles For Seasons Of Change And How You Can Maximize The Benefits Of Change?whether The Change Seems Positive Or Negative?enabling You To Thrive While Fulfilling Your Purpose In Life. As You Meditate On These Truths, Your Mind Will Be Renewed And Your Life Will Be Transformed. You Will Understand The Creator's Original Design So You Can Fulfill Your Unique, God-given Purpose In The World With Joy And Confidence.