King David: Trusting God For a Lifetime (Fisherman Bible Studyguide Series)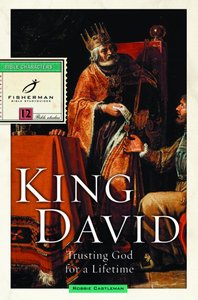 Fisherman Bible Studyguides have been a trusted name in Bible study for almost thirty years. With outstanding authors, an emphasis on personal growth, and over eighty titles, the Fisherman guides offer a breadth and depth of biblical study not found in any other series. Fisherman are written with a commitment to the unique authority of the Bible in our lives. Nondenominational, nonsectarian, and suitable for new Christians and mature Christians, Fisherman have a broad appeal with a biblical base.

King David: Trusting God for a Lifetime, a twelve-week Bible character study, takes an in-depth look at the person referred to in Scripture as "a man after God's own heart," giving insight into how to cope with conflict and depression, how to maintain personal integrity, and how to trust God for a lifetime.

- Publisher
You May Also Be Interested In
About "King David: Trusting God For a Lifetime (Fisherman Bible Studyguide Series)"
Fisherman Bible Studyguides have been a trusted name in Bible study for almost thirty years. With outstanding authors, an emphasis on personal growth, and over eighty titles, the Fisherman guides offer a breadth and depth of biblical study not found in any other series. Fisherman are written with a commitment to the unique authority of the Bible in our lives. Nondenominational, nonsectarian, and suitable for new Christians and mature Christians, Fisherman have a broad appeal with a biblical base.

King David: Trusting God for a Lifetime, a twelve-week Bible character study, takes an in-depth look at the person referred to in Scripture as "a man after God's own heart," giving insight into how to cope with conflict and depression, how to maintain personal integrity, and how to trust God for a lifetime.
- Publisher


Meet the Author
Robbie F Castleman
Robbie F. Castleman (D.Min., University of Dubuque) is associate professor of biblical studies and theology at John Brown University in Siloam Springs, Arkansas. She previously served for several years as a staff member with InterVarsity Christian Fellowship, specializing in ministry to graduate students at campuses in and around Tallahassee, Florida. She is the author of the Fisherman Bible Guides; Miracles, Elijah, David and King David (Shaw/Waterbrook) and the IVP Connect LifeGuide Bible Study Peter and The Story of Scripture: The Unfolding Drama of the Bible, and she is a contributor to the book For All the Saints (Knox/Westminster).
Other Titles In The "Fisherman Bible Studyguide" Series View All