Kingdom Come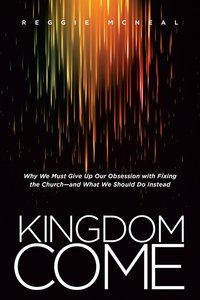 :Are you more passionate than ever about following Jesus, but not sure you're fully where he wants you to be? Are you a ministry leader determined not just to change the church scorecard, but the whole game? Do you dream of being the hands and feet of Jesus by serving your community in key, practical ways? Then you have a Kingdom heart?and whether you know it or not, you're working to see the Kingdom come.

In Kingdom Come, thought leader and church ministry consultant Reggie McNeal asks the provoking question: How do we get from where we are to where God wants us to be? He addresses both why the church must realign its mission with God's Kingdom agenda and how church leaders can implement this strategic shift. Through personal stories, scriptural exploration, and examples of church engagement in Kingdom activity, Reggie offers inspiration as well as insight into how you can get in on and help lead the Kingdom movement currently underway. Discover how you can play a key role in helping the Kingdom come?here and now?right where you are.

- Publisher
You May Also Be Interested In
About "Kingdom Come"
:Are you more passionate than ever about following Jesus, but not sure you're fully where he wants you to be? Are you a ministry leader determined not just to change the church scorecard, but the whole game? Do you dream of being the hands and feet of Jesus by serving your community in key, practical ways? Then you have a Kingdom heart?and whether you know it or not, you're working to see the Kingdom come.

In Kingdom Come, thought leader and church ministry consultant Reggie McNeal asks the provoking question: How do we get from where we are to where God wants us to be? He addresses both why the church must realign its mission with God's Kingdom agenda and how church leaders can implement this strategic shift. Through personal stories, scriptural exploration, and examples of church engagement in Kingdom activity, Reggie offers inspiration as well as insight into how you can get in on and help lead the Kingdom movement currently underway. Discover how you can play a key role in helping the Kingdom come?here and now?right where you are.
- Publisher


Meet the Author
Reggie Mcneal
Reggie McNeal is the director of leadership development for the South Carolina Baptist Convention. Through his various leadership roles, from local congregational settings to denominational positions to seminary classrooms to coach and consultant for thousands of spiritual leaders, he has been devoted to helping leaders understand and practice true leadership greatness. McNeal is the author of Revolution in Leadership: Training Apostles for Tomorrow's Church (Abingdon Press), along with A Work of Heart: Understanding How God Shapes Spiritual Leaders and the best-selling The Present Future: Six Tough Questions for the Church, both from Jossey-Bass.