Kingdom of Priests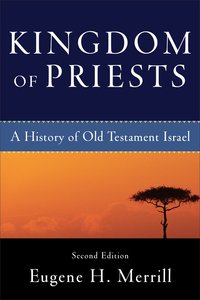 From the origins and exodus to the restoration and new hope, Kingdom of Priests offers a comprehensive introduction to the history of Old Testament Israel. Merrill explores the history of ancient Israel not only from Old Testament texts but also from the literary and archeological sources of the ancient Near East. After selling more than 30,000 copies, the book has now been updated and revised. The second edition addresses and interacts with current debates in the history of ancient Israel, offering an up-to-date articulation of a conservative evangelical position on historical matters. The text is accented with nearly twenty maps and charts.

- Publisher
You May Also Be Interested In
About "Kingdom of Priests"
From the origins and exodus to the restoration and new hope, Kingdom of Priests offers a comprehensive introduction to the history of Old Testament Israel. Merrill explores the history of ancient Israel not only from Old Testament texts but also from the literary and archeological sources of the ancient Near East. After selling more than 30,000 copies, the book has now been updated and revised. The second edition addresses and interacts with current debates in the history of ancient Israel, offering an up-to-date articulation of a conservative evangelical position on historical matters. The text is accented with nearly twenty maps and charts.
- Publisher


Meet the Author
Eugene H Merrill
Eugene H. Merrill (Ph.D., Columbia University) is distinguished professor of Old Testament studies at Dallas Theological Seminary and Distinguished Professor of Old Testament Interpretation at The Southern Baptist Theological Seminary in Kentucky. He is the author of several articles/books, including a commentary on Deuteronomy (New American Commentary series and Cornerstone Biblical Commentary) and the Deuteronomy study notes for the NLT Study Bible. He also served as a Deuteronomy reviewer for the New Living Translation.
Table Of Contents
From The Origins And Exodus To The Restoration And New Hope, kingdom Of Priests Offers A Comprehensive Introduction To The History Of Old Testament Israel. Merrill Explores The History Of Ancient Israel Not Only From Old Testament Texts But Also From The Literary And Archeological Sources Of The Ancient Near East. After Selling More Than 30,000 Copies, The Book Has Now Been Updated And Revised. The Second Edition Addresses And Interacts With Current Debates In The History Of Ancient Israel, Offering An Up-to-date Articulation Of A Conservative Evangelical Position On Historical Matters. The Text Is Accented With Nearly Twenty Maps And Charts.