Kiss Me Like You Mean It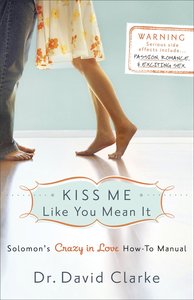 Many couples find themselves at a point where they need a passion boost. How can husbands and wives break through the many obstacles and issues that have derailed their desire and get back on track to being the crazy-in-love couple they once were?

Solomon had a few secrets up his ancient sleeves, and marriage therapist Dr. David Clarke helps readers learn why the passionate exchanges and God-inspired, 3,000-year-old techniques of Solomon and Shulamith worked then--and still work today. Readers will learn how to troubleshoot problems and conflicts, put each other first, employ praise, have fun, flirt, be more playful and sensual, and rediscover the lost art of a great kiss.

Every married couple can experience exhilarating passion; Dr. Clarke and the Song of Solomon reveal how!

- Publisher
You May Also Be Interested In
About "Kiss Me Like You Mean It"
Many couples find themselves at a point where they need a passion boost. How can husbands and wives break through the many obstacles and issues that have derailed their desire and get back on track to being the crazy-in-love couple they once were?

Solomon had a few secrets up his ancient sleeves, and marriage therapist Dr. David Clarke helps readers learn why the passionate exchanges and God-inspired, 3,000-year-old techniques of Solomon and Shulamith worked then--and still work today. Readers will learn how to troubleshoot problems and conflicts, put each other first, employ praise, have fun, flirt, be more playful and sensual, and rediscover the lost art of a great kiss.

Every married couple can experience exhilarating passion; Dr. Clarke and the Song of Solomon reveal how!
- Publisher


Meet the Author
David Clarke
David Clarke is a popular speaker and author, as well as a licensed clinical psychologist in private practice. He holds a master's degree in biblical studies from Dallas Theological Seminary and a Ph.D. in clinical psychology from Western Seminary. He has authored some significant books Cinderella Meets the Caveman, 6 Steps To Emotional Freedom, Total Marriage Makeover, Men Are Clams, Women Are Crowbars, Parenting Isn't For Superheroes, I Don't Love You Anymore and A Marriage After God's Own Heart.