KJV Holman Study Bible (Full Colour)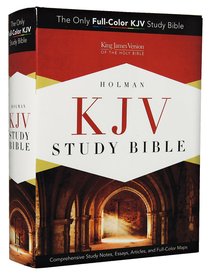 You May Also Be Interested In
About "KJV Holman Study Bible (Full Colour)"
This King James Bible is packed with study helps: 15,000 textual notes, 290 word studies, 141 photos, 62 timelines, 59 maps, 20 topical articles, a 40-page concordance, as well as book introductions, presentation and family record pages, centre-column references, and a guide to 17th century English terms.
Hardback 18 x 24 x 5.4cm
- Koorong


2011 marked the 400th anniversary of the King James Version of the Bible, a landmark that gained worldwide media attention and researched estimates that more than one billion copies of KJV editions have been sold to date. Indeed, the beloved, historically rich rendering of Scripture is an ongoing favorite among Bible readers.

Holman Bible Publishers is excited to present the KJV Study Bible, a new edition modeled after its own 2011 ECPA Christian Book Award-winning HCSB Study Bible, where every well-conceived study help is practically placed on the same page spread as the related biblical text. It also features 15,000 study notes, 141 photos, 62 timelines, 59 maps, 40-page concordance, 20 articles and essays, 16 illustrations and reconstructions, 15 charts, and a helpful glossary of 17th century expressions relative to the KJV's signature phrasing.

Other details of the KJV Study Bible include a two-column text setting, center-column cross references, the words of Christ in red, one- and three- year Bible reading plans, a notes section, four-color presentation page, and two-piece die-cut gift box.

- Publisher