Kneeling in Bethlehem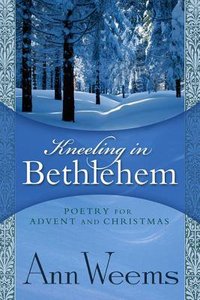 In a style that is reverent and faith-filled, Anne Weems reflects on the mystery of the Christmas season. Included in this collection are twenty-six new poems as well as popular selections from her earlier works, especiallyReaching for RainbowsandFamily Faith Stories. Capturing the spirit of joyful celebration, they can be used in worship services, read aloud at family gatherings, or used by individuals for quiet reflection.</ p>
- Publisher
You May Also Be Interested In
About "Kneeling in Bethlehem"
In a style that is reverent and faith-filled, Anne Weems reflects on the mystery of the Christmas season. Included in this collection are twenty-six new poems as well as popular selections from her earlier works, especiallyReaching for RainbowsandFamily Faith Stories. Capturing the spirit of joyful celebration, they can be used in worship services, read aloud at family gatherings, or used by individuals for quiet reflection.</ p>
- Publisher
Meet the Author
Ann Weems
Ann Weems is a Presbyterian elder, a lecturer, and a popular poet. She is the author of "Family Faith Stories", "Reaching for Rainbows", "Searching for Shalom", "Kneeling in Bethlehem", "Kneeling in Jerusalem", "Psalms of Lament", and "Putting the Amazing Back in Grace", all available from WJK.