Know What You Believe (Paul Little "Believe" Series)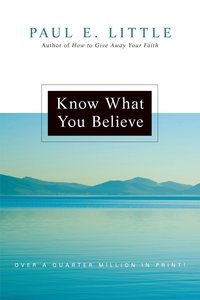 What does Christianity have to do with anything? What does the Christian faith teach about God, Jesus and the Holy Spirit? What do I need to know about angels, Satan and demons? What place should the Bible or a church have in my life? By exploring these and other core questions, bestselling author Paul E. Little leads you into a greater appreciation of a God who has done great things to bring you into a relationship with him through Jesus Christ. He presents ten bottom-line, non-negotiable truths of Christianity using humorous, anecdotal illustrations gathered from years of experience helping believers share their faith with not-yet Christians. Expanded and updated throughout by Paul's wife Marie, this contemporary edition is packed with illuminating answers to questions and misconceptions about the Christian faith, with study questions for each chapter.

- Publisher
You May Also Be Interested In
About "Know What You Believe (Paul Little "Believe" Series)"
What does Christianity have to do with anything? What does the Christian faith teach about God, Jesus and the Holy Spirit? What do I need to know about angels, Satan and demons? What place should the Bible or a church have in my life? By exploring these and other core questions, bestselling author Paul E. Little leads you into a greater appreciation of a God who has done great things to bring you into a relationship with him through Jesus Christ. He presents ten bottom-line, non-negotiable truths of Christianity using humorous, anecdotal illustrations gathered from years of experience helping believers share their faith with not-yet Christians. Expanded and updated throughout by Paul's wife Marie, this contemporary edition is packed with illuminating answers to questions and misconceptions about the Christian faith, with study questions for each chapter.
- Publisher


Meet the Author
Paul E Little
Paul E. Little and his wife, Marie, worked for twenty-five years with InterVarsity Christian Fellowship. Until his death in 1975, Little was also associate professor of evangelism at Trinity Evangelical Divinity School in Deerfield, Illinois. He was the author of several books and articles, including Know Why You Believe.
Table Of Contents
What Does Christianity Have To Do With Anything? What Does The Christian Faith Teach About God, Jesus And The Holy Spirit? What Do I Need To Know About Angels, Satan And Demons? What Place Should The Bible Or A Church Have In My Life? By Exploring These And Other Core Questions, Bestselling Author Paul E. Little Leads You Into A Greater Appreciation Of A God Who Has Done Great Things To Bring You Into A Relationship With Him Through Jesus Christ. He Presents Ten Bottom-line, Non-negotiable Truths Of Christianity Using Humorous, Anecdotal Illustrations Gathered From Years Of Experience Helping Believers Share Their Faith With Not-yet Christians. Expanded And Updated Throughout By Paul's Wife Marie, This Contemporary Edition Is Packed With Illuminating Answers To Questions And Misconceptions About The Christian Faith, With Study Questions For Each Chapter.

Preface

1. The Bible

2. God

3. Jesus Christ

4. Jesus Christ's Death

5. People And Sin

6. The Holy Spirit

7. Salvation

8. Angels, Satan And Demons

9. The Church

10. Things To Come

Study Questions

Notes
Other Titles In The "Paul Little "Believe"" Series