L.O.V.E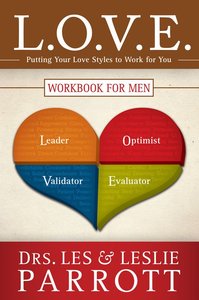 Everyone's personality is designed to give and receive love uniquely. Once men and women understand how they and their spouses are hard-wired for love, each can uncover their own ?Love Style?---and take their love for one another to a whole new level. Relationship experts Drs. Les and Leslie Parrott stand on a mountain of research to show readers how this single insight can revolutionize a couple's relationship. Never before have consumers had such an easy-to-use and scientifically proven tool for pin-pointing their partner's approach to love. L.O.V.E. is accompanied by a set of his/her workbooks expressly designed for couples to drill down into the content of each chapter. These are also ideal for group study. Couples will learn how their two personalities, in combination, approach vital issues such as communication and conflict, as well as sex and intimacy. This is not the typical marriage book. It's a practical tool for husbands and wives to love each other like they never have before.

- Publisher
You May Also Be Interested In
About "L.O.V.E"
Everyone's personality is designed to give and receive love uniquely. Once men and women understand how they and their spouses are hard-wired for love, each can uncover their own ?Love Style?---and take their love for one another to a whole new level. Relationship experts Drs. Les and Leslie Parrott stand on a mountain of research to show readers how this single insight can revolutionize a couple's relationship. Never before have consumers had such an easy-to-use and scientifically proven tool for pin-pointing their partner's approach to love. L.O.V.E. is accompanied by a set of his/her workbooks expressly designed for couples to drill down into the content of each chapter. These are also ideal for group study. Couples will learn how their two personalities, in combination, approach vital issues such as communication and conflict, as well as sex and intimacy. This is not the typical marriage book. It's a practical tool for husbands and wives to love each other like they never have before.
- Publisher


Meet the Authors
Les Parrott
Les Parrott is founder of the Centre for Relationship Development on the campus of Seattle Pacific University and the best-selling author of HIGH-MAINTENANCE RELATIONSHIPS, THE CONTROL FREAK, and LOVE TALK. Dr. Parrott is a sought after speaker to Fortune 500 companies and holds relationship seminars across North America. He also hosts the US national radio broadcast 'Love Talk.' Dr Parrott has been featured in 'USA Today', 'the Wall Street Journal', and 'the New York Times'. His television appearances include CNN, Good Morning America, and Oprah.- Publisher.
Leslie Parrott
Dr. Leslie Parrott is a marriage and family therapist and codirector with her husband, Dr. Les Parrott, of the Center for Relationship Development at Seattle Pacific University. She is the author of God Made You Nose to Toes and The First Drop of Rain, and co-author with her husband of several bestselling books, including The Complete Guide to Marriage Mentoring, Relationships, Love Talk, and the Gold Medallion Award-winner, Saving Your Marriage before It Starts. Leslie is a columnist for Today's Christian Woman and has been featured on Oprah, CBS Morning, CNN, and The View, and in USA Today and the New York Times. www.RealRelationships.com
Koorong -Editorial Review.