Lady of Milkweed Manor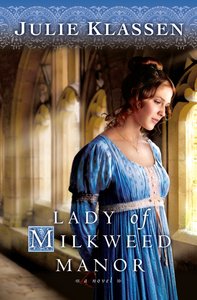 As Charlotte drew closer to the looming grey edifice that was to become her temporary home, she could not help but notice the secretive shuttered windows. Then she noticed the milkweeds...

Even a proper vicar's daughter can make a mistake--and now Charlotte Lamb must pay a high price for her fall. To avoid the prying eyes of all who know her, she hides herself away in London's forbidding "Milkweed Manor," a place of mystery and lore, of old secrets and new birth.

But once there, she comes face to face with a suitor from her past--a man who now hides secrets of his own. Both are determined, with God's help, to protect those they love. But neither can imagine the depth of sacrifice that will be required.

Sprinkled with fascinating details about the lives of women in Regency England, Lady of Milkweed Manor is a moving romantic drama about the redemption of past failings and the beauty of sacrificial love.Julie Klassen loves all things Jane--Jane Eyre and Jane Austen. A graduate of the University of Illinois, Julie worked in publishing for sixteen years and now writes full time. She has won the Christy Award: Historical Romance for The Silent Governess (2010) and The Girl in the Gatehouse (2011) which also won the 2010 Midwest Book Award for Genre Fiction. Julie and her husband have two sons and live in a suburb of St. Paul, Minnesota. For more information, visit www.julieklassen.com
You May Also Be Interested In
About "Lady of Milkweed Manor"
As Charlotte drew closer to the looming grey edifice that was to become her temporary home, she could not help but notice the secretive shuttered windows. Then she noticed the milkweeds...

Even a proper vicar's daughter can make a mistake--and now Charlotte Lamb must pay a high price for her fall. To avoid the prying eyes of all who know her, she hides herself away in London's forbidding "Milkweed Manor," a place of mystery and lore, of old secrets and new birth.

But once there, she comes face to face with a suitor from her past--a man who now hides secrets of his own. Both are determined, with God's help, to protect those they love. But neither can imagine the depth of sacrifice that will be required.

Sprinkled with fascinating details about the lives of women in Regency England, Lady of Milkweed Manor is a moving romantic drama about the redemption of past failings and the beauty of sacrificial love.Julie Klassen loves all things Jane--Jane Eyre and Jane Austen. A graduate of the University of Illinois, Julie worked in publishing for sixteen years and now writes full time. She has won the Christy Award: Historical Romance for The Silent Governess (2010) and The Girl in the Gatehouse (2011) which also won the 2010 Midwest Book Award for Genre Fiction. Julie and her husband have two sons and live in a suburb of St. Paul, Minnesota. For more information, visit www.julieklassen.com
- Koorong


Meet the Author
Julie Klassen
Klassen is a fiction editor with a background in advertising. Lady of Milkweed Manor is her first novel. Julie and her husband have two sons and liye in Minnesota.
Customer Reviews For "Lady of Milkweed Manor"
Write Your Own Review
Deeply beautiful
By Hannah,

Aug 24 2017
This book had me captivated from first page to last as I lived every moment along with Charlotte, her position as daughter of a vicar only exacerbating the fact that she is a woman pregnant out of wedlock. It was like reading a fascinating history book, only through the eyes and deep emotions of someone who was there. The shunning of her friends and family, the pain she felt herself, the mixture of hope and desperation she saw at Milkweed Manor, the close yet impossible relationship with her childhood friend now doctor... It was incredible just how much was fit into a simple story. I didn't want it to end, neither did I have any idea how it would. Utterly captivating and one that grips me yet again every time I read it. 

---
Great reading!
By Bryony,

Mar 19 2016
This was the first one of Julie Klassen's books that I read, and it definitely won't be the last! The characters were well crafted and the plot finely woven. This combined with the setting came together in a novel that I could not put down! Other critics are right when they hail Klassen as the modern Jane Austen!
---
Beautiful story
By Audrey,

Nov 01 2013
I think I have now read all of Julie Klassen's books. Each of them special in their own right. The Lady of Milkweed Manor did not disappoint. Ms Klassen has an amazing way of weaving history through a beautiful story without weighing you down with historical facts. But also not so little facts that it is just another romance with a historical setting. This story was so beautifully written that within a few chapters I felt as if I knew the characters personally. The twist and turns kept me wondering about how it all will end, right to the end. Some interesting facts about wet nurses where sprinkled through out the story. It made me realise that we as modern women do not have the monopoly on choices and frustrations about breastfeeding. We are grateful for the invention of formula milk for babies, but in those years there were not the option. Wet-nurses saved many babies lives. Puerperal insanity, another interesting topic in the book. So yes, it was truly a beautiful story. 
---
A heart-felt novel
By Tracy,

Oct 02 2012
Julie Klassen is an exceptional story teller, she has a good knowledge of historical fiction and attention to detail. This story is well worth reading and it brings home the harsh reality of people during that period, especially women and the few choices they had.  Julie has captured the day-to-day lives of the characters in a way that made me feel like I was there.  I would recommend this book to anyone looking for a story that is inspirational and easy to read. After reading this novel I have bought another 3 novels of Julia Klassen's and I look forward to reading them.
---
Good book!
By Kimberly,

Apr 28 2010
Enjoyed this book, interesting twists- not very predictable at all!! (Not to me, anyway!) Romantic and also SO sad, i found myself getting rather upset while driving home from a holiday (I wasn't driving lol)- trying to explain to everyone why I was so sad!! I also agree that it's a book that doesn't get put down! I, like the other reviewer, will also be looking out for more books by Klassen :) 
{{review.title}}
By {{review.author.name}},

{{review.reviewCreatedDate | date:'MMM dd yyyy'}}

{{reviewdescription}}
{{review.text}}
---