Land of Silence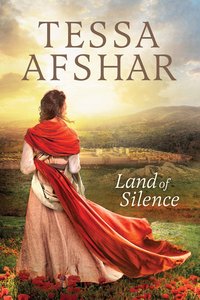 2017 INSPY Award winner, general fiction category
Before Christ called her daughter ...

Before she stole healing by touching the hem of his garment ...

Elianna is a young girl crushed by guilt. After her only brother is killed while in her care, Elianna tries to earn forgiveness by working for her father's textile trade and caring for her family. When another tragedy places Elianna in sole charge of the business, her talent for design brings enormous success, but never the absolution she longs for. As her world unravels, she breaks off her betrothal to the only man she will ever love. Then illness strikes, isolating Elianna from everyone, stripping everything she has left.

No physician can cure her. No end is in sight. Until she hears whispers of a man whose mere touch can heal. After so many years of suffering and disappointment, is it possible that one man could redeem the wounds of body ... and soul?

- Publisher
You May Also Be Interested In
About "Land of Silence"
2017 INSPY Award winner, general fiction category
Before Christ called her daughter ...

Before she stole healing by touching the hem of his garment ...

Elianna is a young girl crushed by guilt. After her only brother is killed while in her care, Elianna tries to earn forgiveness by working for her father's textile trade and caring for her family. When another tragedy places Elianna in sole charge of the business, her talent for design brings enormous success, but never the absolution she longs for. As her world unravels, she breaks off her betrothal to the only man she will ever love. Then illness strikes, isolating Elianna from everyone, stripping everything she has left.

No physician can cure her. No end is in sight. Until she hears whispers of a man whose mere touch can heal. After so many years of suffering and disappointment, is it possible that one man could redeem the wounds of body ... and soul?
- Publisher


Meet the Author
Tessa Afshar
Tessa has just been named 'New Author of the Year 2011' in the Readers' Choice Awards(sponsored by Family Fiction).

Tessa was born into a nominally Muslim family in Iran and lived there for the first 14 years of her life. She survived English boarding school for girls before moving to the United States permanently. Her conversion to Christianity in her mid-twenties changed the course of her life forever. Tessa holds an MDIV from Yale University where she served as co-Chair of the Evangelical Fellowship at the Divinity School. She has spent the last twelve years in full and part-time Christian work and currently serves as the leader of Women's and Prayer ministries at a church in New England.
Customer Reviews For "Land of Silence"
Write Your Own Review
Amazing story
By Sarah,

Sep 23 2017
Land of silence is a fascinating read about the woman who was healed of bleeding condition in the new testament. It was amazing to have the bible story come to life through the authors detailed story. It was very well written and it made me appreciate the society we live in today. It also explained the daily life of a jewish woman in Jesus' time and that gives great insight. It was my first read by this author and i wasnt disappointed. 
---
Heartbreaking story
By Jacqui,

Oct 01 2016
I love Tessa Afshar descriptive writing and the way that she can make you really feel the emotions of her characters. Tessa has used her imagination to create a reason for why it was significant that Jesus would call the woman with the 12 years of bleeding "daughter" when He healed her.  Although there are great descriptions of life during this time in biblical history I personally found that there were far too many tragedies in this story to make it a really enjoyable one to read. If you love this type of story though it is very well written.
---
A beautiful story of how Christ heals the sick AND broken-hearted
By Katie Donovan,

May 01 2016
This story was filled with such heartache, and yet also such hope.  Land of Silence is the story (largely fictional) of the woman who bled for twelve years before reaching out to touch the hem of Jesus' garment.  Nothing is known of this woman outside of her brief appearance in the gospels, and yet, as Tessa Afshar notes, she is the only woman whom Jesus addressed as 'daughter'.   As she and many others have also noted, Jesus does not use words indiscriminately.  So what might have happened in this woman's life to give that one word - 'daughter' - significance?  In many ways, Elianna's physical illness is not the focus of this story.  In fact, it doesn't come upon Elianna until more than half-way through the novel, and when it does, she views it as a physical manifestation of her emotional and spiritual state.  It is therefore entirely appropriate that the majority of this novel deals with the events that haemorrhaged her on the inside. While it was painful at times it was necessary to experience these events with Elianna in order to truly comprehend the fullness of Christ's healing in her life.  If you're a lover of Biblical fiction, or you love to see the way in which Jesus heals the sick AND the broken-hearted, then you will want to read this novel. 
{{review.title}}
By {{review.author.name}},

{{review.reviewCreatedDate | date:'MMM dd yyyy'}}

{{reviewdescription}}
{{review.text}}
---