Larryboy Versus the Volcano (#09 in Larryboy Series)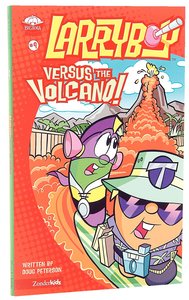 $

6.99

$

5.59
You Save: $1.40 (20%)
Paperback
When Larryboy and his superhero buddies are invited to Superhero Island, they are in for a surprise of volcanic proportions. Trouble erupts when Larryboy discovers he's a second-class citizen, because he doesn't have 'super' powers like his buddies. Bumblyburg's newest supervillain, Chili Pepper and his henchman Coconut, are cooking up a plot for disaster to destroy all superheroes. Will Larryboy help after his vacation is ruined and his friends treat him poorly? Kids will enjoy the adventure of finding out as Larryboy tumbles into a secret hideaway and uncovers Chili Pepper's tourist trap. But is it too late when the volcano explodes? Will Larryboy save himself or will he save the day before the island is covered in hot, molten chili? How will Larryboy learn that everyone is important in God's eyes, even after being excluded from his friends?


- Publisher Larryboy takes a vacation on a volcanic island for superheroes and learns a lesson about including others when he is excluded by his favorite superhero buddies like Lemon Twist and Electro-Melon.

- Publisher Larryboy learns a lesson about including others when he's excluded from his favorite friends_for kids ages 8-12 When Larryboy is invited to take an elite vacation on Superhero Island, he jumps at the chance! But when he arrives with his superhero buddies, he's treated like a second-class citizen, unlike the others. Larryboy soon discovers this is all part of a diabolical plan to destroy all superheroes when a volcanic rock erupts in molten chili, and it's up to him to rescue his superhero friends! Will Larryboy save the day after being excluded from the others? Kids will be challenged to figure out the dastardly deeds of Bumblyburg's latest supervillian, Chili Pepper, as they discover the importance of including others.

- Publisher
You May Also Be Interested In
About "Larryboy Versus the Volcano (#09 in Larryboy Series)"
When Larryboy and his superhero buddies are invited to Superhero Island, they are in for a surprise of volcanic proportions. Trouble erupts when Larryboy discovers he's a second-class citizen, because he doesn't have 'super' powers like his buddies. Bumblyburg's newest supervillain, Chili Pepper and his henchman Coconut, are cooking up a plot for disaster to destroy all superheroes. Will Larryboy help after his vacation is ruined and his friends treat him poorly? Kids will enjoy the adventure of finding out as Larryboy tumbles into a secret hideaway and uncovers Chili Pepper's tourist trap. But is it too late when the volcano explodes? Will Larryboy save himself or will he save the day before the island is covered in hot, molten chili? How will Larryboy learn that everyone is important in God's eyes, even after being excluded from his friends?

- Publisher

Larryboy takes a vacation on a volcanic island for superheroes and learns a lesson about including others when he is excluded by his favorite superhero buddies like Lemon Twist and Electro-Melon.
- Publisher

Larryboy learns a lesson about including others when he's excluded from his favorite friends_for kids ages 8-12 When Larryboy is invited to take an elite vacation on Superhero Island, he jumps at the chance! But when he arrives with his superhero buddies, he's treated like a second-class citizen, unlike the others. Larryboy soon discovers this is all part of a diabolical plan to destroy all superheroes when a volcanic rock erupts in molten chili, and it's up to him to rescue his superhero friends! Will Larryboy save the day after being excluded from the others? Kids will be challenged to figure out the dastardly deeds of Bumblyburg's latest supervillian, Chili Pepper, as they discover the importance of including others.
- Publisher


Meet the Authors
Doug Peterson
Doug Peterson is a writer with the University of Illinois. He co-wrote the story for Larryboy and the Rumor Weed and is the author of over twenty books. He's written more than 300 published articles and a short story, which became the basis of a music video featuring Grammy-winner Jennifer Warnes. He lives in Champaign, IL.
Other Titles In The "Larryboy" Series View All
$7.99




Order now to secure your copy when our stock arrives. 0 Available. Expected to ship in 6 to 7 weeks from Australia.

Formats