Leaders That Last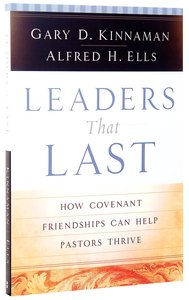 A pastor can't go it alone. With the stress that comes with a life of service, leaders can too easily stumble, burn out, or feel the need to leave the ministry altogether. But with the support of others who've been there, you can increase your impact on the people you serve and enjoy a more rewarding ministry.

Leaders That Last provides the solution to the problem of going it alone. Submitting to a mentoring relationship, building strong friendships, and being challenged by fellow pastors to stay faithful to the call provide for vital balance while allowing for growth. The proven Pastors in Covenant model described in this book shows how to form small help groups with other trusted colleagues. These teams hold one another personally and professionally accountable and provide a lifeline during troubled times.


- Publisher Thousands of ministers burn out every year; others fall prey to sexual temptation. With piercing honesty, Leaders that Last dismantles stale stereotypes about pastors and offers hope for handling their recurring, daily struggles. Coauthored by a minister who admits to struggling with periodic bouts of depression, this practical resource offers a hopeful message for pastors of every denomination. Serving a church is a lonely business, no matter how big the congregation. A pastor is expected to be nearly perfect, modeling holiness, generosity, and kindness. In need of moral and emotional support, pastors often try to go it alone, satisfied with a collection of acquaintances but no true friends. Starting a Pastors in Covenant support group changes all that. Struggling leaders can throw each other a lifeline when they agree to communicate with caring and candor. Geared primarily for those in ministry, Leaders that Last is an important message from two authors who understand the difficulti

- Publisher "Genuine friendship is one of the most important elements in lasting ministry. Finally, we have a book that teaches this eternal principle for longevity. Leaders that Last is a godsend to ministry leaders. Gary Kinnaman and Alfred Ells use lessons form their personal friendship and ministry to make a compelling case for acquiring and maintaining healthy pastoral relationships. The readers will be challenged to pray for friends that can help them survive the rigors of ministry."-Ted Haggard, senior pastor New Life Church, Colorado Springs, CO"I practice what they preach, and believe it to be the single best idea to preserve pastors because it is pragmatic and effective. Read and apply to stay in the race."-Dr. Alan Nelson, founder, Leading Ideas;author, Spirituality and Leadership"Jesus defined life as relational and it is in relationship with him and others that we find the abundant life he promised. Leaders That Last gives the account of one successful pastor who has actually found the enjoyment of this life in ministry. This book will be a great encouragement."-Darryl DelHousaye, senior pastor, Scottsdale Bible Church; president, Phoenix Seminary"Dr. Gary Kinnaman combines a humble heart and a remarkable comprehension of other cultures beyond his own. His ministry is a treasure of God that will profoundly enrich the Hispanic community. I recommend him with all my heart."-Alberto H. Mottesi, Evangelist"One of the great needs in the world today is summed up in the title Leaders that Last. Gary Kinnaman and Al Ells have examined this subject from the unique vantage point of having dealt personally with both leaders that have lasted and, tragically, with those who haven''t. Their collective insight, wisdom and advice in this work should become required reading for today''s leaders and tomorrow''s."-Tommy Barnett, pastor, Phoenix First Assembly of God"Large-church culture is full of frequent, predictable, painful problems (small churches have their own). In Leaders that Last, Gary (a mega-church pastor) and Al (a therapist and consultant) open up about these faults. Their thoughtful candor is "sane" advice (especially their tips for groups) for healing "insane", unsafe church cultures and the people who--in spite of their best efforts--create them."-Todd Hunter, director, Allelon Fellowship of Churches, former national director, Vineyard-USA"Covenant groups made up of busy and drained leaders is a win-win idea and this book is a vital resource for pastors considering accountability with relationships. It is a great book with awesome stories and will be used to save many ministries from extinction."-Frank Damazio, senior pastor, City Bible Church, Portland, Oregon"The local church has a vital role to play in contemporary society and its leaders are often the determining factor for success or failure. For too long we''ve seen many leaders going at it alone or dropping out of the race prematurely. This book is a clarion call to church leaders to begin cultivating the kind of friendships that will help ensure that they are ''leaders that last.''"-Mark Conner, senior pastor, Waverley Christian Fellowship, Melbourne, Australia"This book comes at a very critical time of transition for the Church. Without a doubt the contents of this book bring a voice of stability and hope for many pastors and leaders across America. Both Gary and Al are personal friends and mentors whose teachings have greatly influenced my life and ministry. The message within this pages will challenge you to take the next step for a Kingdom vision that will transform your life and your ministry."-Hector Torres, Hispanic International Ministries"I love to learn from leaders I trust. In Leaders That Last, Gary Kinnaman has given us the treasures of his life. If we ponder these words and walk in this wisdom, our lives will be rescued from great folly and set on paths of joy."-John Dawson, president, YWAM International"Every leader of a growing ministry and every pastor of a l

- Publisher
You May Also Be Interested In
About "Leaders That Last"
A pastor can't go it alone. With the stress that comes with a life of service, leaders can too easily stumble, burn out, or feel the need to leave the ministry altogether. But with the support of others who've been there, you can increase your impact on the people you serve and enjoy a more rewarding ministry.

Leaders That Last provides the solution to the problem of going it alone. Submitting to a mentoring relationship, building strong friendships, and being challenged by fellow pastors to stay faithful to the call provide for vital balance while allowing for growth. The proven Pastors in Covenant model described in this book shows how to form small help groups with other trusted colleagues. These teams hold one another personally and professionally accountable and provide a lifeline during troubled times.

- Publisher

Thousands of ministers burn out every year; others fall prey to sexual temptation. With piercing honesty, Leaders that Last dismantles stale stereotypes about pastors and offers hope for handling their recurring, daily struggles. Coauthored by a minister who admits to struggling with periodic bouts of depression, this practical resource offers a hopeful message for pastors of every denomination. Serving a church is a lonely business, no matter how big the congregation. A pastor is expected to be nearly perfect, modeling holiness, generosity, and kindness. In need of moral and emotional support, pastors often try to go it alone, satisfied with a collection of acquaintances but no true friends. Starting a Pastors in Covenant support group changes all that. Struggling leaders can throw each other a lifeline when they agree to communicate with caring and candor. Geared primarily for those in ministry, Leaders that Last is an important message from two authors who understand the difficulti
- Publisher

"Genuine friendship is one of the most important elements in lasting ministry. Finally, we have a book that teaches this eternal principle for longevity. Leaders that Last is a godsend to ministry leaders. Gary Kinnaman and Alfred Ells use lessons form their personal friendship and ministry to make a compelling case for acquiring and maintaining healthy pastoral relationships. The readers will be challenged to pray for friends that can help them survive the rigors of ministry."-Ted Haggard, senior pastor New Life Church, Colorado Springs, CO"I practice what they preach, and believe it to be the single best idea to preserve pastors because it is pragmatic and effective. Read and apply to stay in the race."-Dr. Alan Nelson, founder, Leading Ideas;author, Spirituality and Leadership"Jesus defined life as relational and it is in relationship with him and others that we find the abundant life he promised. Leaders That Last gives the account of one successful pastor who has actually found the enjoyment of this life in ministry. This book will be a great encouragement."-Darryl DelHousaye, senior pastor, Scottsdale Bible Church; president, Phoenix Seminary"Dr. Gary Kinnaman combines a humble heart and a remarkable comprehension of other cultures beyond his own. His ministry is a treasure of God that will profoundly enrich the Hispanic community. I recommend him with all my heart."-Alberto H. Mottesi, Evangelist"One of the great needs in the world today is summed up in the title Leaders that Last. Gary Kinnaman and Al Ells have examined this subject from the unique vantage point of having dealt personally with both leaders that have lasted and, tragically, with those who haven''t. Their collective insight, wisdom and advice in this work should become required reading for today''s leaders and tomorrow''s."-Tommy Barnett, pastor, Phoenix First Assembly of God"Large-church culture is full of frequent, predictable, painful problems (small churches have their own). In Leaders that Last, Gary (a mega-church pastor) and Al (a therapist and consultant) open up about these faults. Their thoughtful candor is "sane" advice (especially their tips for groups) for healing "insane", unsafe church cultures and the people who--in spite of their best efforts--create them."-Todd Hunter, director, Allelon Fellowship of Churches, former national director, Vineyard-USA"Covenant groups made up of busy and drained leaders is a win-win idea and this book is a vital resource for pastors considering accountability with relationships. It is a great book with awesome stories and will be used to save many ministries from extinction."-Frank Damazio, senior pastor, City Bible Church, Portland, Oregon"The local church has a vital role to play in contemporary society and its leaders are often the determining factor for success or failure. For too long we''ve seen many leaders going at it alone or dropping out of the race prematurely. This book is a clarion call to church leaders to begin cultivating the kind of friendships that will help ensure that they are ''leaders that last.''"-Mark Conner, senior pastor, Waverley Christian Fellowship, Melbourne, Australia"This book comes at a very critical time of transition for the Church. Without a doubt the contents of this book bring a voice of stability and hope for many pastors and leaders across America. Both Gary and Al are personal friends and mentors whose teachings have greatly influenced my life and ministry. The message within this pages will challenge you to take the next step for a Kingdom vision that will transform your life and your ministry."-Hector Torres, Hispanic International Ministries"I love to learn from leaders I trust. In Leaders That Last, Gary Kinnaman has given us the treasures of his life. If we ponder these words and walk in this wisdom, our lives will be rescued from great folly and set on paths of joy."-John Dawson, president, YWAM International"Every leader of a growing ministry and every pastor of a l
- Publisher


Meet the Authors
Gary Kinnaman
Gary Kinnaman is the senior pastor of Word of Grace Church near Phoenix. He is a popular conference speaker and has written several books, including the bestseller Angels: Dark and Light. Gary and his wife make their home in Arizona.
Alfred Ells
Gary Kinnaman is the senior pastor of Word of Grace Church in Mesa, Arizona, which has more than 7,000 active members. He has written seven books, including How to Overcome the Darkness. Kinnaman credits coauthor Alfred Ells with saving his life and ministry through his honest, caring support during a time of serious personal depression. Ells, the author of seven books, including One-Way Relationships, is founder and director of ClergyCare, a non-profit counseling organization for ministry leaders. A