Leadership From the Inside Out (Leadership Network Innovation Series)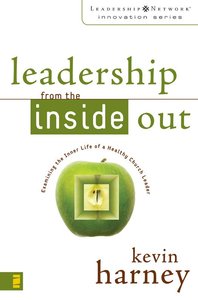 You can serve God and his people for a lifetime and do it with passion and joy. You do not have to become another casualty in the growing number of leaders who have compromised their integrity, character, and ministry because they failed to lead an examined and accountable life. The road forward is clearly marked. Leaders must make a decision to humbly and consistently examine their inner lives and identify areas of needed change and growth. Also, wise leaders commit to listen to the voices of those who will love them enough to speak the truth and point out problems and potential pitfalls. Kevin Harney writes, ?The vision of this book is to assist leaders as they discover the health, wisdom, and joy of living an examined life. It is also to give practical tools for self-examination.? Sharing stories and wisdom from his years in ministry, Harney shows you how to maintain the most powerful tool in your leadership toolbox: YOU. Your heart, so you can love well. Your mind, so you can continue to learn and grow. Your ears, your eyes, your mouth ? consider this your essential guide to conducting your own complete interior health exam, so you can spot and fix any problems, preserve the things that matter most, and grow as a source of vision, strength, and hope to others.

- Publisher
You May Also Be Interested In
About "Leadership From the Inside Out (Leadership Network Innovation Series)"
You can serve God and his people for a lifetime and do it with passion and joy. You do not have to become another casualty in the growing number of leaders who have compromised their integrity, character, and ministry because they failed to lead an examined and accountable life. The road forward is clearly marked. Leaders must make a decision to humbly and consistently examine their inner lives and identify areas of needed change and growth. Also, wise leaders commit to listen to the voices of those who will love them enough to speak the truth and point out problems and potential pitfalls. Kevin Harney writes, ?The vision of this book is to assist leaders as they discover the health, wisdom, and joy of living an examined life. It is also to give practical tools for self-examination.? Sharing stories and wisdom from his years in ministry, Harney shows you how to maintain the most powerful tool in your leadership toolbox: YOU. Your heart, so you can love well. Your mind, so you can continue to learn and grow. Your ears, your eyes, your mouth ? consider this your essential guide to conducting your own complete interior health exam, so you can spot and fix any problems, preserve the things that matter most, and grow as a source of vision, strength, and hope to others.
- Publisher


Meet the Author
Kevin Harney
Kevin G. Harney is the Teaching Pastor and Evangelism Champion at Faith Church in Dyer, Indiana and Central Wesleyan Church in Holland, MI. He is also on the Teaching Team of the campus ministry at Grand Valley State University in Allendale, Michigan. He is author of Leadership from the Inside Out: Examining the Inner Life of a Healthy Church Leader; Seismic Shifts, the little changes that make a BIG difference in your life; John: An Intimate Look at the Saviour; Ephesians: Bringing Heaven to Earth, and co-author of the Willow Creek Interactions series, the Willow Creek New Community series, the Old Testament Challenge series, and Finding a Church You Can Love and Loving the Church You've Found.
Other Titles In The "Leadership Network Innovation Series" Series View All