Leadership in Christian Perspective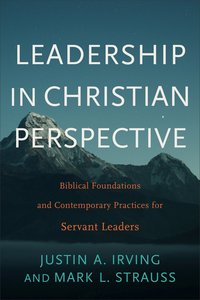 This book brings the best of leadership theory and research together with biblical reflection and examples of leadership in action to offer a practical guide to Christian leaders.

Combining expertise in leadership studies and biblical studies, Justin Irving and Mark Strauss explore how leadership models have moved from autocratic and paternalistic leader-centered models toward an increased focus on followers. The authors show how contemporary theories such as transformational leadership, authentic leadership, and servant leadership take an important step toward prioritizing and empowering followers who work with leaders to accomplish organizational goals. Irving and Strauss organize their book around "nine empowering practices," making it accessible to students, church leaders, and business leaders.

Integrating solid research in leadership studies with biblical and theological reflection on the leadership ideas that are most compatible with Christian faith, this book is an important resource for all Christian students of leadership.

- Publisher
You May Also Be Interested In
About "Leadership in Christian Perspective"
This book brings the best of leadership theory and research together with biblical reflection and examples of leadership in action to offer a practical guide to Christian leaders.

Combining expertise in leadership studies and biblical studies, Justin Irving and Mark Strauss explore how leadership models have moved from autocratic and paternalistic leader-centered models toward an increased focus on followers. The authors show how contemporary theories such as transformational leadership, authentic leadership, and servant leadership take an important step toward prioritizing and empowering followers who work with leaders to accomplish organizational goals. Irving and Strauss organize their book around "nine empowering practices," making it accessible to students, church leaders, and business leaders.

Integrating solid research in leadership studies with biblical and theological reflection on the leadership ideas that are most compatible with Christian faith, this book is an important resource for all Christian students of leadership.
- Publisher


Meet the Authors
Mark L Strauss
Mark L. Strauss (PhD., University of Aberdeen) is professor of New Testament at Bethel Seminary in San Diego. He is the author of The Davidic Messiah in Luke-Acts; Distorting Scripture? The Challenge of Bible Translation and Gender Accuracy; Luke in the Illustrated Bible Background Commentary; The Essential Bible Companion; and Four Portraits, One Jesus: An Introduction to Jesus and the Gospels.
He has recently completed the The Gospel of Mark for Expositor's Bible Commentary and is writing The Gospel of Mark for the Zondervan Exegetical Commentary. His professional associations include the Evangelical Theological Society, the Institute for Biblical Research and the Society of Biblical Literature. He is a frequent preacher at San Diego area churches and has served in three interim pastorates.
Table Of Contents
This Book Brings The Best Of Leadership Theory And Research Together With Biblical Reflection And Examples Of Leadership In Action To Offer A Practical Guide To Christian Leaders.

Combining Expertise In Leadership Studies And Biblical Studies, Justin Irving And Mark Strauss Explore How Leadership Models Have Moved From Autocratic And Paternalistic Leader-centered Models Toward An Increased Focus On Followers. The Authors Show How Contemporary Theories Such As Transformational Leadership, Authentic Leadership, And Servant Leadership Take An Important Step Toward Prioritizing And Empowering Followers Who Work With Leaders To Accomplish Organizational Goals. Irving And Strauss Organize Their Book Around "nine Empowering Practices," Making It Accessible To Students, Church Leaders, And Business Leaders.

Integrating Solid Research In Leadership Studies With Biblical And Theological Reflection On The Leadership Ideas That Are Most Compatible With Christian Faith, This Book Is An Important Resource For All Christian Students Of Leadership.