Learning Theology With the Church Fathers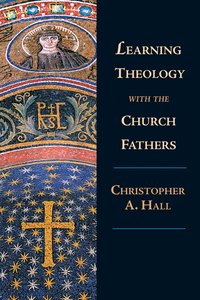 The early church fathers were great theologians--though they did not think of themselves as such. They were working pastors, involved in the daily life and leadership of their congregations. Yet they were wrestling with many of the great and formative questions of the Christian faith, such as the Trinity, the incarnation, the providence of God and the nature of the church. These beliefs were defined in the crucible of spiritual leadership, pastoral care and theological conflict, all set against the background of the great cultural movements and events of their day. For the church fathers, theology was a spiritual exercise woven into the texture of life.What would it be like to sit under the preaching and instruction of these great men, to look over their shoulders as they thought and wrote, or to hear them debate theological issues?Learning Theology with the Church Fathers offers us that experience. With the same insight and love of his subject that he brought to Reading Scripture with the Church Fathers, Christopher A. Hall opens the door on patristic theology. Focusing on the great questions, we view these issues in their settings and find greater appreciation for the foundations and architecture of our Christian faith.

- Publisher
You May Also Be Interested In
About "Learning Theology With the Church Fathers"
The early church fathers were great theologians--though they did not think of themselves as such. They were working pastors, involved in the daily life and leadership of their congregations. Yet they were wrestling with many of the great and formative questions of the Christian faith, such as the Trinity, the incarnation, the providence of God and the nature of the church. These beliefs were defined in the crucible of spiritual leadership, pastoral care and theological conflict, all set against the background of the great cultural movements and events of their day. For the church fathers, theology was a spiritual exercise woven into the texture of life.What would it be like to sit under the preaching and instruction of these great men, to look over their shoulders as they thought and wrote, or to hear them debate theological issues?Learning Theology with the Church Fathers offers us that experience. With the same insight and love of his subject that he brought to Reading Scripture with the Church Fathers, Christopher A. Hall opens the door on patristic theology. Focusing on the great questions, we view these issues in their settings and find greater appreciation for the foundations and architecture of our Christian faith.
- Publisher


Meet the Author
Christopher A Hall
Christopher A. Hall (Ph.D., Drew University) is Chancellor and Professor of Biblical and Theological Studies at Eastern University. His publications include Reading Scripture with the Church Fathers (InterVarsity Press, 1998); Learning Theology with the Church Fathers (InterVarsity Press, 2002); The Trinity (Eerdmans, 2002); Does God Have A Future (Baker, 2003), and is the editor of Ancient & Postmodern Christianity: Paleo-Orthodoxy in the 21st Century: Essays in Honor of Thomas C. Oden with Kenneth Tanner and the Ancient Christian Commentary Series (InterVarsity Press) to which he has contributed the award winning volume on Mark.
Most recently he has authored Worshiping with the Church Fathers (InterVarsity Press) and edited Homilies on Numbers (InterVarsity Press)
Koorong -Editorial Review.
Table Of Contents
The Early Church Fathers Were Great Theologians--though They Did Not Think Of Themselves As Such. They Were Working Pastors, Involved In The Daily Life And Leadership Of Their Congregations. Yet They Were Wrestling With Many Of The Great And Formative Questions Of The Christian Faith, Such As The Trinity, The Incarnation, The Providence Of God And The Nature Of The Church. These Beliefs Were Defined In The Crucible Of Spiritual Leadership, Pastoral Care And Theological Conflict, All Set Against The Background Of The Great Cultural Movements And Events Of Their Day. For The Church Fathers, Theology Was A Spiritual Exercise Woven Into The Texture Of Life.what Would It Be Like To Sit Under The Preaching And Instruction Of These Great Men, To Look Over Their Shoulders As They Thought And Wrote, Or To Hear Them Debate Theological Issues?learning Theology With The Church Fathers Offers Us That Experience. With The Same Insight And Love Of His Subject That He Brought To reading Scripture With The Church Fathers, Christopher A. Hall Opens The Door On Patristic Theology. Focusing On The Great Questions, We View These Issues In Their Settings And Find Greater Appreciation For The Foundations And Architecture Of Our Christian Faith.

1. Preparing To Learn Theology With The Church Fathers

2. Christ The Son, Begotten And Not Made

3. The Mystery And Wonder Of The Trinity

4. Christ Divine And Human

5. On The Holy Spirit

6. Sin, Grace And The Human Condition

7. God's Transcendent Providence

8. God's Wise And Loving Providence

9. The Sacred Scriptures

10. One Holy, Apostolic Church

11. The Resurrection Of The Body And Life Everlasting

Notes

General Index

Scripture Index