Let Food Be Your Medicine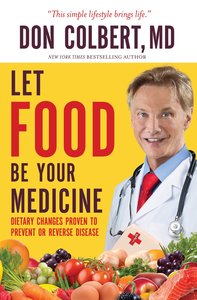 CHOOSING A BETTER LIFE ONE MEAL AT A TIMEIn Let Food Be Your Medicine, Dr. Don Colbert takes a look at the most common health issues and offers simple dietary changes using a specially modified Mediterranean Diet. With a better understanding of what to eat and what not to eat, readers will know how their nutritional choices affect: * CARDIOVASCULAR DISEASE* WEIGHT LOSS* ARTHRITIS* ADHD* TYPE 2 DIABETES* CANCER* AND MORELet Food Be Your Medicine includes meal plans, delicious recipes, tips on supplements, and other information to help you find an approach to food that will change your life. You can beat genetics. You can overcome. You can start today.

- Publisher
You May Also Be Interested In
About "Let Food Be Your Medicine"
CHOOSING A BETTER LIFE ONE MEAL AT A TIMEIn Let Food Be Your Medicine, Dr. Don Colbert takes a look at the most common health issues and offers simple dietary changes using a specially modified Mediterranean Diet. With a better understanding of what to eat and what not to eat, readers will know how their nutritional choices affect: * CARDIOVASCULAR DISEASE* WEIGHT LOSS* ARTHRITIS* ADHD* TYPE 2 DIABETES* CANCER* AND MORELet Food Be Your Medicine includes meal plans, delicious recipes, tips on supplements, and other information to help you find an approach to food that will change your life. You can beat genetics. You can overcome. You can start today.
- Publisher


Meet the Author
Don Colbert
Don Colbert, M.D., is one of America's foremost authorities on the integration of natural and conventional health care. He is a board-certified family practitioner and is the author of such book as What Would Jesus Eat? Toxic Relief, Walking in Divine Health, and theBible Cure Booklet Series. A best-selling author, and a dynamic public speaker, his tremendously popular books exceed four million copies in print. He brings a 21st century approach to a timeless message of healthy lifestyle habits. Dr Colbert hosts an American national talk show, 'Your Health Matters', with his wife Mary and contributes columns both to Joyce Meyer's partner's magazine and Charisma magazine. He regularly speaks at national seminars. He makes his home in central Florida.- Publisher.