Let Me Be a Woman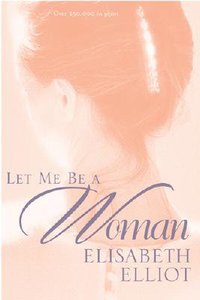 "In order to learn what it means to be a woman, we must start with the One who made her." Working from Scripture, well-known speaker and author Elisabeth Elliot shares her observations and experiences in a number of essays on what it means to be a Christian woman, whether single, married, or widowed. Available in trade softcover and as a Living Book.

- Publisher 49 Chapters

- Publisher Who Are You? Many Christian women rarely, if ever, ask themselves that question. But knowing who you are as a woman-and as a Christian-can make a real difference in how you see yourself and others. Elisabeth Elliot can help you find answers that make a difference. She suggests that the place to start is by asking not "Who am I?" but "Whose am I?" In Let Me Be a Woman, she writes candidly about what it means to be a Christian woman, and she unabashedly tackles tough issues, including: Subordination The Single Life Self-Discipline Masculinity vs. Femininity The Right Kind of Pride What Makes a Marriage Work Whether you are young or not so young, single, engaged, married, or widowed, you will better understand how you fit into God's plan, and you will come away with a wonderful sense of peace about who you really are as a Christian woman.

- Publisher
You May Also Be Interested In
About "Let Me Be a Woman"
"In order to learn what it means to be a woman, we must start with the One who made her." Working from Scripture, well-known speaker and author Elisabeth Elliot shares her observations and experiences in a number of essays on what it means to be a Christian woman, whether single, married, or widowed. Available in trade softcover and as a Living Book.
- Publisher

49 Chapters
- Publisher

Who Are You? Many Christian women rarely, if ever, ask themselves that question. But knowing who you are as a woman-and as a Christian-can make a real difference in how you see yourself and others. Elisabeth Elliot can help you find answers that make a difference. She suggests that the place to start is by asking not "Who am I?" but "Whose am I?" In Let Me Be a Woman, she writes candidly about what it means to be a Christian woman, and she unabashedly tackles tough issues, including: Subordination The Single Life Self-Discipline Masculinity vs. Femininity The Right Kind of Pride What Makes a Marriage Work Whether you are young or not so young, single, engaged, married, or widowed, you will better understand how you fit into God's plan, and you will come away with a wonderful sense of peace about who you really are as a Christian woman.
- Publisher


Meet the Author
Elisabeth Elliot
Elisabeth Elliot was born to missionary parents and served as a missionary in Ecudor. In 1953 she married Jim Elliott and together they began work on translating the New Testament into the language of the Quichua Indians. Ten months later, Jim was killed by the Auca Indians while attempting to take the Gospel to that primitive tribe. Elisabeth continued her work among the Quichuas and later lived and worked among the Aucas. Today, she lives north of Boston, Massachusetts, with her husband, Lars Gren. Elisabeth is the author of a number of books, including Shadow of the Almighty; Passion and Purity; A Path Through Suffering; The Shaping of a Christian Family and Keep a Quiet Heart.
Table Of Contents
Customer Reviews For "Let Me Be a Woman"
Write Your Own Review
All Women Must Read This
By Dimi,

Nov 22 2012
This book is a must read for all women of all age's and stage's of life. I think this book is a must read for women's ministries.
Let me be a women is a book that teache's women to embrace who they are as a women of God. It teaches women to understand what it means to be a beautiful women of God and to embrace that.
An amazingly wonderful book. A great wedding gift or birthday gift.
{{review.title}}
By {{review.author.name}},

{{review.reviewCreatedDate | date:'MMM dd yyyy'}}

{{reviewdescription}}
{{review.text}}
---