Let's Roll (5th Anniversary Commemorative Edition)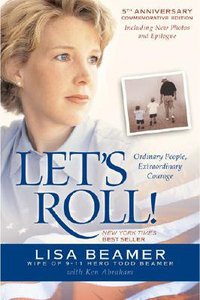 The best seller that has brought comfort and hope to millions in the wake of 9/11. This moving, behind-the-scenes story of United Flight 93 hero Todd Beamer and his widow, Lisa is so much more than a tribute. A message of character, courage, and undeniable faith in the face of horrifying tragedy, it encourages anyone who reads it to live real life right now . . . and to have confidence and hope for the future.


- Publisher This heartfelt, sensitive book tells Lisa Beamer's story - her marriage to Todd, the events surrounding 9-11, and the aftermath and impact on Lisa, her family, and her country.

- Publisher 9 - 11. United Flight 93. You Read All About It. You Heard Hero Todd Beamer's Last Words. But is that the End of the Story? In Let's Roll! Todd's wife, Lisa, reveals what really happened on that ill-fated flight, as well as poignant glimpses of a genuine American hero. She talks candidly about Todd's growing-up years, their marriage and last week together, and then family moments without him-the devastating day her children learned their daddy had died, how they celebrated his first birthday without him, the mix of grief and joy when she gave birth to their third child, and how she's found the confidence to go on in the face of such tragedy and loss. It's no wonder that, through this unpretentious homemaker and mother, an entire nation can ... Find hope. Find inspiration. Find strength. Let's Roll!

- Publisher
You May Also Be Interested In
About "Let's Roll (5th Anniversary Commemorative Edition)"
The best seller that has brought comfort and hope to millions in the wake of 9/11. This moving, behind-the-scenes story of United Flight 93 hero Todd Beamer and his widow, Lisa is so much more than a tribute. A message of character, courage, and undeniable faith in the face of horrifying tragedy, it encourages anyone who reads it to live real life right now . . . and to have confidence and hope for the future.

- Publisher

This heartfelt, sensitive book tells Lisa Beamer's story - her marriage to Todd, the events surrounding 9-11, and the aftermath and impact on Lisa, her family, and her country.
- Publisher

9 - 11. United Flight 93. You Read All About It. You Heard Hero Todd Beamer's Last Words. But is that the End of the Story? In Let's Roll! Todd's wife, Lisa, reveals what really happened on that ill-fated flight, as well as poignant glimpses of a genuine American hero. She talks candidly about Todd's growing-up years, their marriage and last week together, and then family moments without him-the devastating day her children learned their daddy had died, how they celebrated his first birthday without him, the mix of grief and joy when she gave birth to their third child, and how she's found the confidence to go on in the face of such tragedy and loss. It's no wonder that, through this unpretentious homemaker and mother, an entire nation can ... Find hope. Find inspiration. Find strength. Let's Roll!
- Publisher


Meet the Authors
Lisa Beamer
Ken Abraham is the author of the # 1 New York Times bestselling Let's Roll with Lisa Beamer, as well as the author of Payne Stewart with Tracey Stewart.