Levi's Will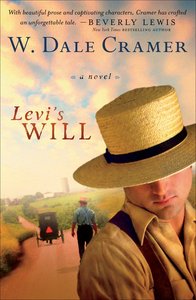 Will flees his Old Order community at the age of 19, leaving behind a pregnant girlfriend and all things Amish. He begins a new life, joining the army and later marrying and having two sons of his own. But his life and his new family are tainted by the hidden sins of his past. Hoping to patch things up with his father, Will takes his new family to meet the old one. Levi's Will is the haunting story of a fallen man seeking to build a bridge across three generations.

"A beautiful and original story. This is an accomplished work."--Booklist (starred review)

"With beautiful prose and captivating characters, Cramer has crafted an unforgettable tale."--Beverly Lewis, New York Times bestselling author

- Publisher
You May Also Be Interested In
About "Levi's Will"
Will flees his Old Order community at the age of 19, leaving behind a pregnant girlfriend and all things Amish. He begins a new life, joining the army and later marrying and having two sons of his own. But his life and his new family are tainted by the hidden sins of his past. Hoping to patch things up with his father, Will takes his new family to meet the old one. Levi's Will is the haunting story of a fallen man seeking to build a bridge across three generations.

"A beautiful and original story. This is an accomplished work."--Booklist (starred review)

"With beautiful prose and captivating characters, Cramer has crafted an unforgettable tale."--Beverly Lewis, New York Times bestselling author
- Publisher


Meet the Author
W Dale Cramer
W. Dale Cramer is a husband, father, jack-of-all-trades, and author of the highly acclaimed novels Sutter's Cross; Levi's Will and Bad Ground as well as several published works of short fiction. He and his wife and two sons make their home in northern Georgia
-Editorial Review.