Lewis & Mere Christianity: The Crisis That Created a Classic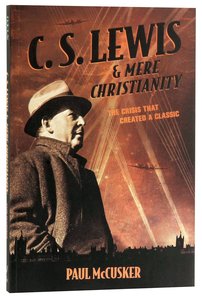 Mere Christianity is one of the best books of Christian apologetics ever written. Arguably, no book other than the Bible itself has had as much influence for the cause of the gospel over the past 60 years. The story of how that message came to be created, during the rigors of World War II in England, is fascinating in and of itself. But it also addresses a very important question: How do we present the gospel effectively to a culture that has Christian foundations but has become largely secularized and ignorant of biblical truth?

- Publisher
You May Also Be Interested In
About "Lewis & Mere Christianity: The Crisis That Created a Classic"
Mere Christianity is one of the best books of Christian apologetics ever written. Arguably, no book other than the Bible itself has had as much influence for the cause of the gospel over the past 60 years. The story of how that message came to be created, during the rigors of World War II in England, is fascinating in and of itself. But it also addresses a very important question: How do we present the gospel effectively to a culture that has Christian foundations but has become largely secularized and ignorant of biblical truth?
- Publisher


Meet the Author
Paul Mccusker
Paul McCusker is the creative content director for Focus on the Family. He has been a writer of fiction, nonfiction, and drama since 1979. His work includes over forty published novels, full-length plays, dramatic sketch collections, and song lyrics.
For the Adventures in Odyssey series alone, he has written over 200 half-hour radio episodes, eighteen novels, and two screenplays for the best-selling animated videos.
He has dramatized many classics for Focus on the Family Radio Theatre, including A Christmas Carol and Jan Karon's At Home in Mitford. He also wrote and directed the Peabody Award–winning Bonhoeffer: The Cost of Freedom and created the highly acclaimed Father Gilbert Mysteries series.
The novellas Epiphany and The Faded Flower, and more plus non-fiction, and co-authored You Say Tomato with best-selling British writer Adrian Plass. Epiphany was nominated for the ECPA Gold Medallion Award
Paul lives in Colorado Springs, Colorado, with his wife, Elizabeth, and their two children.