Lies We Tell Ourselves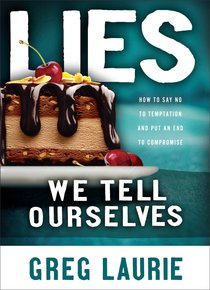 :We all know what it's like to justify something we're about to do with a clever excuse. Temptation knocks at every door. No one is immune. But often we put ourselves in places of vulnerability and then wonder why we get tempted. So, wherein lies the problem? With the lies we tell ourselves and our resulting behavior. In this engaging book, Greg Laurie takes an honest and humorous look at the ways we fall into sin and how we frequently rationalize our actions. Drawing from the pages of Scripture and his own experiences, he shares practical steps we can take to effectively resist temptation and put an end to the compromises that will ultimately lead to our downfall.

- Publisher
You May Also Be Interested In
About "Lies We Tell Ourselves"
:We all know what it's like to justify something we're about to do with a clever excuse. Temptation knocks at every door. No one is immune. But often we put ourselves in places of vulnerability and then wonder why we get tempted. So, wherein lies the problem? With the lies we tell ourselves and our resulting behavior. In this engaging book, Greg Laurie takes an honest and humorous look at the ways we fall into sin and how we frequently rationalize our actions. Drawing from the pages of Scripture and his own experiences, he shares practical steps we can take to effectively resist temptation and put an end to the compromises that will ultimately lead to our downfall.
- Publisher


Meet the Author
Greg Laurie
Greg Laurie is the senior pastor of Harvest Christian Fellowship in Riverside California and Harvest Orange County in Irvine California. He began his pastoral ministry at the age of 19 by leading a Bible study of 30 people. Since then God has transformed that small group into a church of some 15,000 people. Today Harvest is one of the largest churches in America and consistently ranks among the most influential churches in the country. In 1990 Laurie began holding large-scale public evangelistic events called Harvest Crusades. Since that time more than 4,408,000 people have attended.