Life Changing Leadership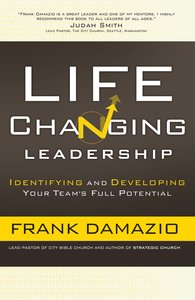 Discover the keys to unlocking success in life and ministry.

Everyone is looking for that edge, the key that will unlock success in life and ministry. The "edge" is Christ and he has given us keys that will open doors to divine encounters and strategies leading to successful leadership. Amply supported by Scripture and lessons from other successful leaders, this book closely outlines what it takes to be a successful leader in a lukewarm, confused, compromising, religious atmosphere. It defines the functions and responsibilities of leadership teams and offers insight into different leadership styles, as well as the unique temptations and challenges that face a ministry leader.

Leaders will discover how Scriptures establish the necessity of God as the head of church government. They will learn how to choose qualified leaders and learn practical ways to train them. Life-Changing Leadership will help strengthen leaders and give them strategies for building and motivating teams by setting and executing team goals that support creativity and faithfulness.

- Publisher
Also Available In
You May Also Be Interested In
About "Life Changing Leadership"
Discover the keys to unlocking success in life and ministry.

Everyone is looking for that edge, the key that will unlock success in life and ministry. The "edge" is Christ and he has given us keys that will open doors to divine encounters and strategies leading to successful leadership. Amply supported by Scripture and lessons from other successful leaders, this book closely outlines what it takes to be a successful leader in a lukewarm, confused, compromising, religious atmosphere. It defines the functions and responsibilities of leadership teams and offers insight into different leadership styles, as well as the unique temptations and challenges that face a ministry leader.

Leaders will discover how Scriptures establish the necessity of God as the head of church government. They will learn how to choose qualified leaders and learn practical ways to train them. Life-Changing Leadership will help strengthen leaders and give them strategies for building and motivating teams by setting and executing team goals that support creativity and faithfulness.
- Publisher


Meet the Author
Frank Damazio
Frank Damazio is Senior Pastor of City Bible Church, a diverse congregation meeting in multiple locations with over 5,000 people who are fervent in prayer, worship and reaching the metro-area and beyond for Christ. Damazio has authored over 25 books on church leadership and personal spiritual growth. His ability to clearly communicate the Word with power, insight, and humour allows him to reach a variety of people of all ages and backgrounds. Damazio is a graduate of Portland Bible College and holds a Master of Divinity degree from Oral Roberts University. He resides in Portland, Oregon with his wife Sharon and their four children.