Life, in Spite of Me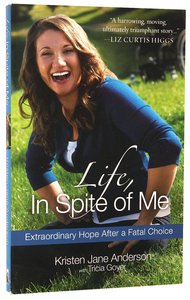 Kristen Anderson didn't really want to die, but she couldn't cope with the emotional pain that life had brought her. Once a happy child, her world darkened after four teen friends and her grandmother died within two years. While reeling from these losses, Kristen was raped by a trusted friend. She sank deeper into depression. Kristen was seventeen years old the January night she lay across the railroad tracks not far from her parents' home. Before the engineer could bring the train to a stop, thirty-three freight train cars passed over her at 55 miles-per-hour. It was only after the train stopped that Kristen realized she was still alive. And after looking around, trying to figure out if she was just caught up in a horrible dream, she saw her legs about ten feet away. Intense pain set in. She was alive, and a living nightmare had just begun. Several years have passed since the night Kristen Anderson should have died. This young woman knows her survival is a miracle, yet her amputated legs are a daily reminder of the night she'd hoped to end her pain. The night she thought she'd go to heaven. Instead of death by suicide, God had a different story for her. In Life, in Spite of Me, Kristen shares her journey from despair to hope, from wanting to die to having a purpose for living. Though she struggled intensely with depression and suicidal thoughts after losing her legs, she ultimately found lasting hope, joy, and fulfillment in knowing and serving God.

- Publisher
You May Also Be Interested In
About "Life, in Spite of Me"
Kristen Anderson didn't really want to die, but she couldn't cope with the emotional pain that life had brought her. Once a happy child, her world darkened after four teen friends and her grandmother died within two years. While reeling from these losses, Kristen was raped by a trusted friend. She sank deeper into depression. Kristen was seventeen years old the January night she lay across the railroad tracks not far from her parents' home. Before the engineer could bring the train to a stop, thirty-three freight train cars passed over her at 55 miles-per-hour. It was only after the train stopped that Kristen realized she was still alive. And after looking around, trying to figure out if she was just caught up in a horrible dream, she saw her legs about ten feet away. Intense pain set in. She was alive, and a living nightmare had just begun. Several years have passed since the night Kristen Anderson should have died. This young woman knows her survival is a miracle, yet her amputated legs are a daily reminder of the night she'd hoped to end her pain. The night she thought she'd go to heaven. Instead of death by suicide, God had a different story for her. In Life, in Spite of Me, Kristen shares her journey from despair to hope, from wanting to die to having a purpose for living. Though she struggled intensely with depression and suicidal thoughts after losing her legs, she ultimately found lasting hope, joy, and fulfillment in knowing and serving God.

- Publisher
- Koorong

She wanted to die. God had other plans. Why does my life have to be so painful? Whatas wrong with me? Itas not going to get better. It could all be over soon, and then I wonat hurt anymore. Kristen Anderson thought she had the picture-perfect life until strokes of gray dimmed her outlook: three friends and her grandmother died within two years. Still reeling from these losses, she was raped by a friend she thought she could trust. She soon spiraled into a seemingly bottomless depression. One January night, the seventeen-year-old decided she no longer wanted to deal with the emotional pain that smothered her. She lay down on a set of cold railroad tracks and waitedfor a freight train to send her to heaven&and peace. But Kristen's story doesnat end there. In Life, In Spite of Methis remarkably joyful young woman shares the miracle of her survival, the agonizing aftermath of her failed suicide attempt, and the hope that has completely transformed her life, giving her a powerful purpose for living. Her gripping story of finding joy against all odds provides a vivid and unforgettable reminder that life is a gift to be treasured. Includes notes of encouragement Kristen wishes she had received when she was struggling most. From the Hardcover edition.
- Publisher

She wanted to die. God had other plans.

Overwhelmed by wave after wave of emotional trauma, Kristen Anderson no longer wanted to live. One January night, determined to end her pain once and for all, the seventeen-year-old lay across train tracks not far from her home and waited to die.
 
Instead of peace, she found herself immersed in a whole new nightmare.
 
Before the engineer could bring the train to a stop, thirty-three freight cars passed over her at fifty-five miles per hour. After the train stopped and Kristen realized she was still alive, she looked around—and saw her legs ten feet away.
 
Surviving her suicide attempt but losing her legs launched Kristen into an even deeper battle with depression and suicidal thoughts, as well as unrelenting physical pain—all from the seat of a wheelchair. But in the midst of her darkest days, Kristen discovered the way to real life and a purpose for living.
 
For anyone struggling to find the strength to go on, the message of this heart-wrenching yet hope-building book is a clear and extraordinary reminder that even when we give up on life, God doesn't give up on us. 
 
Includes notes of encouragement from Kristen and resources for suicide prevention.
- Publisher


Meet the Author
Kristen Jane Anderson
Kristen Jane Andersonhas been featured onOprahand is a popular speaker at colleges, womenrsquo;s and youth events, churches, and suicide prevention outreaches. A graduate of Moody Bible Institute and the founder of Reaching You Ministries, Kristen seeks to help those who are hurting, hopeless, lost, suicidal and depressed.   Tricia Goyeris the author of three hundred articles for national periodicals, as well as fourteen novels and six nonfiction books, includingBlue Like Play Dough. From the Hardcover edition.
Excerpt
Excerpt from: Life, in Spite of Me
Dear reader,
This is my story. Sometimes it gets a little crazy…you'll see, but my guess is that in many ways my story and yours are not that different. Between some of the chapters you will find personal notes from me to you. These include things I wish I had known, things I wish someone had told me back then. I hope you will find what I've shared encouraging.

I am praying for you.
Kristen


Numb. The cold Illinois wind chilled my body.

Numb. My mind, my heart.

At just past 6:00 p.m., the sky was black, and the icy January air hovered over the ground as a thick, misty fog. Snow clung to the dirt in patches, and my heart felt as dead as the wintry world around me. Silently, I trudged through the park and tugged my knit gloves tighter. I wanted only to be happy and for life to be a little easier, but everything seemed to be getting worse.
On one side of me, the park was dark and silent. Once full of life and laughter, my soul was the same. Play equipment, empty and laced with frost, sat motionless. In the other direction, lights from the town attempted to penetrate the fog. The idea of going home caused a heavy weight to sink in my stomach. I didn't want to face my parents.
Or my life.
Cold seeped through my jeans and coat as I sat down on the hard wooden seat of a nearby swing. Frozen chains creaked softly, and my thoughts took me back to all the times I'd played at this park during happy childhood days—too many to count. Now I was seventeen; those days were long past.
Why does life have to be so painful?
I turned in the swing, twisting the chains above my head tighter and tighter. Then I released. My body unwound in a slow turn. If only the invisible chains wrapped around my heart would free as easily.
A car drove by, and my body tensed. The park closed at dusk. Policemen patrolled the area, and I knew if they found me they'd send me home.
I don't want to go back… I just can't do it.
I'd never hung out in this park at night before. I didn't like being there, but I had no idea where else to go. I just needed time—time to figure out what to do next.
My gaze turned to the two sets of railroad tracks at the edge of the park. The first set of tracks was empty. A cluster of six cars sat on the second set. I knew the cops wouldn't be able to see me there.
Sluggishly, I made my way over to the line of railroad cars. My eyes zeroed in on the last car. I climbed up the side of it and sat, dangling my legs. I'm not sure how much time passed. Maybe an hour, maybe two. The danger of sitting on the train car put me on edge. After all the years living so near the railroad tracks, I'd never ventured this close.
I blew warm air into my hands, trying to thaw them, but it did little good.
What's wrong with me?
Everyone else seemed to be able to handle the burdens, the struggles of life, better than I could. All I wanted was to be happy. To have the perfect life I always thought I had when I was a kid. But my arms had grown tired from trying to hold my fantasy world together.
Lately, it seemed I couldn't do anything right. I wasn't there for my friends and family when they needed me. I was doing horribly in school, and I'd become a worry to my family. Now I was "grounded until further notice." I pushed the most recent argument with my parents out of my mind. And then there was the pain that ran even deeper than that. Memories too painful to think about. I pushed them back below the surface, as I had for months. In the past year I'd started smoking, drinking, and partying with my friends on the weekends, futilely trying to escape the pain.
I looked down at the railroad tracks and remembered a time I'd realized the power of a train. A train would kill anyone in an instant. No one could survive that. If I ever wanted to take my life, if ever…that's the way I'd do it.
The cold air around me brought me back to the moment. A deeper chill settled into my bones—and my thoughts grew darker; I knew I didn't want anyone to worry about me anymore. More than that, I wanted the
pain to stop.
If I ever want my life to end…this would be my chance.
It's not going to get better. There's no reason I need to be here. There's nothing I'm supposed to do here. They'd be better off without me.
I tried to think of a reason to stay around, to live, but I could think of only one, my two nephews.
I'm not a very good example anymore. They're probably better off without me anyway, and I don't have any kids of my own. No younger brothers and sisters either. There's nothing important I'm supposed to do. My family, my friends…They'll get over me, right? I'm just causing pain and problems.
I looked around again at the cold, dark night.
This night is icky.
The world is disgusting.
My life sucks.
It could all be over soon, and then I won't hurt anymore.
I thought about school the next day. The homework I hadn't done.
I'm such a failure.
Do I want my life to end? If the train comes, should I end it?
Conflicting thoughts ping-ponged, faster, faster.
It's going to get better.
It isn't going to get better.
There's a reason I'm here.
There's no reason I'm here.
There's something I'm supposed to do here.
There's nothing I'm supposed to do here.
I was cold, and it was late. I wanted to leave, but I didn't know where to go.
Suddenly, a train whistle split the air. My heart pounded. I hadn't expected the train. Not yet. I still hadn't decided what to do.
I knew it would be a long time before the next train. This is my chance.
The thoughts came as fast as the train speeding toward me.
I'm so cold. This might be the only train for a while.
If I did it, the pain, the heartache, the numbness would be over.
I'm gonna do it. Soon it will all be over.
I stood between the parked train cars. I glanced across the dip between the tracks I was on and the ones the approaching train was speeding down.
I waited until the train got closer. I didn't want the engineer to see me. I didn't want him to stop the train. The large outline of the train's engine was barely visible beyond the bright headlight. It was almost here.
Heaven waited for me. I was sure of it. I was a good person.
Heaven has to be better than this life.
My heart pounded as I ran up the small bank. The train's headlight illuminated me. Its horn blared. I tried to push down the fear and shame, turned my face away from the train, and lay facedown.
I clenched my fists, crossed my arms under my head, and braced myself, closing my eyes tight. My head and body lay between the tracks, my legs hung over the rail. I could feel the cold metal against my thighs and the wood and rocks under my stomach. As the train closed in, the ground shook so much that my whole body vibrated. Then the train was upon me, over me.
Pain overwhelmed me. The train roared.
The momentum of the cars pulled at me, as if the train were trying to suck me into itself. The wind tugged harder, wrenching at my jacket and yanking my hair upward. My body rose, lifting slightly.
Then, even more powerful than the wind and the momentum of the train, another force pushed me to the ground. My head and chest hit first, then my hips and legs. Again I felt the power of the train, the shaking of the ground, the roar of it moving over me. The force of the weight pushing me down hurt more than anything else.
Fear coursed through me. I squeezed my eyes tighter.
It's going to be over now. The pain is going to end. I'll be in heaven soon.
As the whistle blew again, the vibration of my body stilled.
The sound stopped. The wind stopped. The train stopped.
Am I dead yet?

If you're struggling with suicidal thoughts…
I know how you feel. Life is harder and more painful than you ever thought it could be. You're not sure if it's worth it, but I'm telling you there is so much to live for—more than you have ever experienced or imagined. Somehow, I hope my story will show that to you.
Please don't give up. You are not alone. There is a God who made you, and he's not as far away as you may think. He is always near. Wherever you go, whatever you do, he will be with you. He loves you, and he wants to comfort you, heal the hurt in your heart, and carry you through this life. Let him in.
God has an amazing plan for your life, even if you don't have a plan for yourself. He has hope for you, even if you don't have hope for yourself. He loves you immensely, even when you don't love yourself. And he sees beauty in you, even when all you see is a mess.
Suicide is never the answer. There is too much to live for. Keep fighting. Please don't give up. Reach out for help. You won't regret it. Your heart can be filled with hope, just like mine and so many others have been.
Love, Kristen




From the Hardcover edition.
Media
Customer Reviews For "Life, in Spite of Me"
Write Your Own Review
Fascinating biography
By Hannah,

Oct 23 2014
I found this book both easy and difficult to read. The manner in which it was written made me feel as if I were just sitting down chatting with a friend. Because of that, I finished reading it in one sitting. However, the topics it covers - attempted suicide, amputation, depression, broken relationships - are more difficult to hear about. Though I didn't particularly enjoy this book, I am thrilled it's been written because I think many people will benefit from the hope it offers and the knowledge that they are not alone in their struggles - and that God can, and will, use every life for his glory.
---
A Moving Autobiography
By Margot,

Oct 11 2012
This is the story of the insidiousness of depression, the power of parental prayer, the completeness of salvation. It is the story of 17 year old Kristen and her failed attempt to destroy her own life. It is proof that God has good plans for us, plans that will come to pass regardless of our attempts to go our own way and do our own thing. It is a story that brings hope to others who may be considering suicide, as Kristen candidly shares what she was thinking and feeling before, during and after her very serious and nearly successful suicide attempt. But it also brings hope to those who have loved ones who attempt suicide  as Kristen pays tribute to her parents, and family for their consistent and unconditional love and support. An inspirational read for everyone!
{{review.title}}
By {{review.author.name}},

{{review.reviewCreatedDate | date:'MMM dd yyyy'}}

{{reviewdescription}}
{{review.text}}
---