Life in the Balance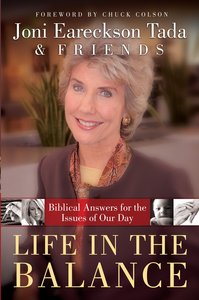 Never before has it been so important for Christians to discover the answers God's Word holds to our culture's biggest ethical and social dilemmas. Every day, the 24-hour news cycle offers stories from around the world of unimaginable physical, mental, and emotional suffering. Yet more often than not, these stories and the underlying problems they represent are reported with no suggestions for resolution. Can it really be true that there are no solutions to our world's biggest crises?

Joni Eareckson Tada refuses to believe it. On her TV show, she has interviewed scores of people who have faced life's toughest battles--and emerged victorious! In Life in the Balance, Joni and her friends take on some of the most difficult issues covered by the evening news, such as street violence, abortion, autism, genocide, and stem-cell research. But they don't just tell the stories; they dig deep into the Word of God to find real and lasting solutions to so-called "unsolvable" problems. This workbook, designed for participants in a Life in the Balance individual and group study, will guide readers to apply the timeless yet timely truth of God's Word to society's greatest challenges.

- Publisher
You May Also Be Interested In
About "Life in the Balance"
Never before has it been so important for Christians to discover the answers God's Word holds to our culture's biggest ethical and social dilemmas. Every day, the 24-hour news cycle offers stories from around the world of unimaginable physical, mental, and emotional suffering. Yet more often than not, these stories and the underlying problems they represent are reported with no suggestions for resolution. Can it really be true that there are no solutions to our world's biggest crises?

Joni Eareckson Tada refuses to believe it. On her TV show, she has interviewed scores of people who have faced life's toughest battles--and emerged victorious! In Life in the Balance, Joni and her friends take on some of the most difficult issues covered by the evening news, such as street violence, abortion, autism, genocide, and stem-cell research. But they don't just tell the stories; they dig deep into the Word of God to find real and lasting solutions to so-called "unsolvable" problems. This workbook, designed for participants in a Life in the Balance individual and group study, will guide readers to apply the timeless yet timely truth of God's Word to society's greatest challenges.
- Publisher


Meet the Author
Joni Eareckson Tada
Joni Eareckson Tada has known the grace of God for 30 years after being after being paralysed from the neck down in a diving accident. Joni is president of JAF Ministries, an organization that accelerates Christian ministry among people with disabilities. She is also host of 'Joni and Friends', a daily radio program in the USA operating out of the International Disability Centre and a sought after conference speaker.
She is the author of more than 30 books, including the bestsellers Diamonds in the Dust, Heaven, and More Precious Than Silver.
In 2003 she was given the Gold Medallion Award for her book When God Weeps and in 2004 for co-authoring Hymns for a Kid's Heart, Volume 1. Her award winning and best-selling autobiography, Joni, was adapted as a full-length feature film. Tada also serves in an advisory capacity to many Institutes concerned with disability, writing and evangelism worldwide. She has been given many awards and holds several honourary doctorates. Joni and her husband, Ken, live in Southern California.