Life is Tough But God is Faithful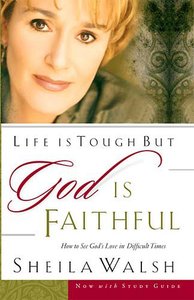 When the doubts and fears of life assail us, we may find we are overwhelmed by some difficult questions: " If God loves me, why did this happen?" Can He hear my prayers?" If God is in control, why is life so hard? Sheila Walsh has struggled with these questions in her own life journey?and found some answers. Not easy, pat answers, but real-life, lived-out-in-the-flesh answers that can help all Christians find meaning and purpose in the midst of their ?Job experience.? In" Life Is Tough But God Is Faithful, Sheila looks at eight crucial turning points that can help you rediscover God's love and forgiveness. She offers encouraging insight into God's presence in the midst of our questions and struggles?and highlights positive choices you can make, no matter what your circumstances.

- Publisher
You May Also Be Interested In
About "Life is Tough But God is Faithful"
When the doubts and fears of life assail us, we may find we are overwhelmed by some difficult questions: " If God loves me, why did this happen?" Can He hear my prayers?" If God is in control, why is life so hard? Sheila Walsh has struggled with these questions in her own life journey?and found some answers. Not easy, pat answers, but real-life, lived-out-in-the-flesh answers that can help all Christians find meaning and purpose in the midst of their ?Job experience.? In" Life Is Tough But God Is Faithful, Sheila looks at eight crucial turning points that can help you rediscover God's love and forgiveness. She offers encouraging insight into God's presence in the midst of our questions and struggles?and highlights positive choices you can make, no matter what your circumstances.
- Publisher


Meet the Author
Sheila Walsh
Freedom is something Sheila Walsh holds dear because she knows what it means to be bound by depression and fear. The author of multiple best-selling books for adults and children, including the Gigi series; God Little Princess series, Sheila is also a Grammy-nominated singer. Before joining Women of Faith, she co-hosted television's The 700 Club and had her own talk show "Heart to Heart with Sheila Walsh". Sheila lives in Texas with husband Barry, son Christian, and a menagerie of furry friends.