Life Lessons From Jesus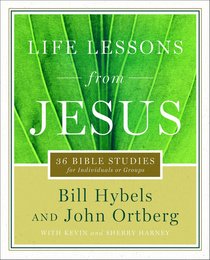 :When Jesus was walking the earth, everyone had a theory about who he was---healer, revolutionary, king, friend, humble carpenter. But out of the vast complexity of characteristics and ideas there emerges one simple word that no one can deny: 'Rabbi.' These 36 Bible studies capture the heart of Jesus the Rabbi. He was a revolutionary, miracle-working, loving, powerful, divine teacher. For those whose minds are ready to be expanded, whose hearts are hungering to be touched, and whose lives are ripe for growth, John Ortberg and Bill Hybels invites people of all ages and backgrounds to pull up a chair and dig into the life lessons of Jesus captured in the Bible throughout the Gospels. Designed for use as personal Bible study or group study, the interactive format will help readers grow in their ability to reflect the character of Jesus. Studies include: Twelve Studies on the Sermon on the Mount by Bill Hybels Six Studies on The Lord's Prayer by John Ortberg Six Studies on the Parables by John Ortberg Six Studies on The Passion Story by Bill Hybels Six Studies on Luke by Bill Hybels

- Publisher
You May Also Be Interested In
About "Life Lessons From Jesus"
:When Jesus was walking the earth, everyone had a theory about who he was---healer, revolutionary, king, friend, humble carpenter. But out of the vast complexity of characteristics and ideas there emerges one simple word that no one can deny: 'Rabbi.' These 36 Bible studies capture the heart of Jesus the Rabbi. He was a revolutionary, miracle-working, loving, powerful, divine teacher. For those whose minds are ready to be expanded, whose hearts are hungering to be touched, and whose lives are ripe for growth, John Ortberg and Bill Hybels invites people of all ages and backgrounds to pull up a chair and dig into the life lessons of Jesus captured in the Bible throughout the Gospels. Designed for use as personal Bible study or group study, the interactive format will help readers grow in their ability to reflect the character of Jesus. Studies include: Twelve Studies on the Sermon on the Mount by Bill Hybels Six Studies on The Lord's Prayer by John Ortberg Six Studies on the Parables by John Ortberg Six Studies on The Passion Story by Bill Hybels Six Studies on Luke by Bill Hybels
- Publisher


Meet the Authors
Bill Hybels
Bill Hybels is the founding and senior pastor of Willow Creek Community Church in South Barrington, Illinois, one of the largest and most influential churches in North America, and the chairman of the board for Willow Creek Association. He convened The Global Leadership Summit in 1995, following a God-given prompting to help raise and develop the spiritual gift of leadership for the local church.

Both visionary and passionate about seeing every local church reach its full God-given potential, he speaks around the world on strategic issues related to leadership, evangelism, and church growth. An exceptional communicator, he is a best-selling author of more than 20 books on personal evangelism, marriage and especially on the subject of Christian leadership, including Just Walk Across the Room, Courageous Leadership and the newly released, The Power of a Whisper: Hearing God and Having the Guts to Respond.

Bill received a bachelor's degree in Biblical Studies and an honorary Doctorate of Divinity from Trinity College in Deerfield, IL. He and his wife, Lynne, have two adult children and one grandson.
John Ortberg
John Ortberg is a teaching pastor at Menlo Park Presbyterian Church in Menlo Park, California, and previously served as teaching pastor at Willow Creek Community Church. He is the best-selling author of Everybody's Normal Till You Get to Know Them, If You Want to Walk on Water, You've Got to Get Out of the Boat, Love Beyond Reason, and Old Testament Challenge. He has written for Christianity Today and is a frequent contributor to Leadership Journal. His most recent publications include When the Game is Over, God is Closer than you Think, and Overcoming Your Shadow Mission.
-Editorial Review.
Kevin Harney
Kevin G. Harney is the Teaching Pastor and Evangelism Champion at Faith Church in Dyer, Indiana and Central Wesleyan Church in Holland, MI. He is also on the Teaching Team of the campus ministry at Grand Valley State University in Allendale, Michigan. He is author of Leadership from the Inside Out: Examining the Inner Life of a Healthy Church Leader; Seismic Shifts, the little changes that make a BIG difference in your life; John: An Intimate Look at the Saviour; Ephesians: Bringing Heaven to Earth, and co-author of the Willow Creek Interactions series, the Willow Creek New Community series, the Old Testament Challenge series, and Finding a Church You Can Love and Loving the Church You've Found.
Sherry Harney
Kevin G. Harney serves at Shoreline Community Church in Monterey, California. Harney is the author of Organic Outreach for Ordinary People, Leadership from the Inside Out; Seismic Shifts; Finding a Church You Can Love and Loving the Church You've Found; and more than sixty small-group Bible studies. SPANISH BIO: Kevin G. Harney es pastor de ensenanza en Faith Church en Dyer, Indiana. Es autor de Seismic Shifts: the Little Changes that make a BIG difference in your life y coautor de varios libros.