Like a Flower in Bloom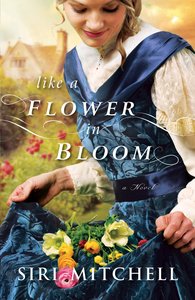 $

19.99

$

15.99
You Save: $4.00 (20%)
Paperback
:Victorian-Era England Comes Alive in This Witty Romance

For years Charlotte Withersby has worked as an assistant to her father, an eminent English botanist. As she approaches the old age of twenty-four, her father pushes her out into society, swayed by an uncle who believes God's only two roles for women are marriage and motherhood. When one of the Withersbys' colonial correspondents, Edward Trimble, returns to England, he's drafted as the new assistant so Charlotte is free to marry. This suits Edward's plans quite well, since the last thing he wants to do is reunite with the family he is ashamed to call his own.

Though Edward proves himself vexingly capable on the job, Charlotte won't surrender the job without a fight, and schemes with her best friend to regain her position. Perhaps if a proposal seems imminent, Charlotte's father will see his error and ask her to return. Charlotte tries to make headway in her town's social life, but reveals herself to be unaware of all the intricacies of polite society. Though Edward pitches in, tutoring her in society's expectations, she just seems to make things worse. And the more she comes to know of her father's assistant, the more trouble she has imagining life without him. Caught in a trap of her own making and seeing the hopelessness of her prospects, will Charlotte get to keep her work or will she have to cede her heart?

- Publisher
You May Also Be Interested In
About "Like a Flower in Bloom"
:Victorian-Era England Comes Alive in This Witty Romance

For years Charlotte Withersby has worked as an assistant to her father, an eminent English botanist. As she approaches the old age of twenty-four, her father pushes her out into society, swayed by an uncle who believes God's only two roles for women are marriage and motherhood. When one of the Withersbys' colonial correspondents, Edward Trimble, returns to England, he's drafted as the new assistant so Charlotte is free to marry. This suits Edward's plans quite well, since the last thing he wants to do is reunite with the family he is ashamed to call his own.

Though Edward proves himself vexingly capable on the job, Charlotte won't surrender the job without a fight, and schemes with her best friend to regain her position. Perhaps if a proposal seems imminent, Charlotte's father will see his error and ask her to return. Charlotte tries to make headway in her town's social life, but reveals herself to be unaware of all the intricacies of polite society. Though Edward pitches in, tutoring her in society's expectations, she just seems to make things worse. And the more she comes to know of her father's assistant, the more trouble she has imagining life without him. Caught in a trap of her own making and seeing the hopelessness of her prospects, will Charlotte get to keep her work or will she have to cede her heart?
- Publisher


Meet the Author
Siri Mitchell
-->Siri Mitchell has written five novels two of which (Chateau of Echoes and The Cubicle Next Door) were named Christy Finalists. A graduate from the University of Washington with a business degree she has worked in many levels of government. She enjoys traveling and has lived on three continents.
Customer Reviews For "Like a Flower in Bloom"
Write Your Own Review
Victorian botanist seeks to marry ...
By Iola,

Jan 27 2015
Miss Charlotte Withersby is following the family tradition by being an acclaimed botanist, although she does wish she could get published under her own name rather than her father's name. But life changes when her uncle suggests it's time she married and her father agrees. She protests, but the unexpected arrival of Mr Edward Trimble, one of her father's correspondents, seals the deal. Charlotte will enter local society in search of a husband, and Mr Trimble will take over her duties. Charlotte agrees only because she believes her father will soon find Mr Trimble lacking, but her plans soon go awry. 

Charlotte is one of those people with academic intelligence, but not a lot of understanding of the subtleties of human nature. This makes for interesting reading, as Like a Flower in Bloom is written entirely in first person from Charlotte's point of view, yet the underlying subtext made me, as the reader, suspect things which Charlotte had no idea about (and I was right). That's exceptional writing. 

Overall, I really enjoyed Like a Flower in Bloom. Recommended for fans of historical fiction. Thanks to Bethany House and NetGalley for providing a free ebook for review. 
{{review.title}}
By {{review.author.name}},

{{review.reviewCreatedDate | date:'MMM dd yyyy'}}

{{reviewdescription}}
{{review.text}}
---