Like Gold Refined (#04 in Prairie Legacy Series)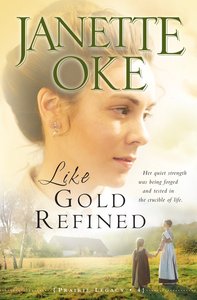 Her character has been shaped and tempered by both adversity and triumph...

If Virginia could have chosen to accept or discard all the changes that came her way, she gladly would have let most of them pass right by herself and her family. She loved her life--living on the farm with her beloved Jonathan and their children, not far from her parents and her grandparents. But a change that is tearing at her heart is the gradual but steady physical decline in Grandma Marty and Grandpa Clark. She cannot imagine their familiar farm home without their welcoming smiles and their words of wisdom that arise from of decades of life experiences and a solid faith in God.

And their lovely daughter Mindy, who has blessed their home ever since her mother left the tiny child with them, has been encouraged and guided to pray for that mother all these years. Was God answering that prayer, or was the worst nightmare any family could face now upon them?

Returning to the legacy of Marty and Clark Davis from the Love Comes Softly series, Janette Oke has again fashioned a touching frontier series for fans of all ages. Picking up twenty years after Belinda's story from Love Finds a Home, A Prairie Legacy series follows Marty and Clark's grandchildren as they grow in faith and maturity. Heartwarming, and as familiar as a smiling face, Janette Oke's writing introduces a whole new generation of characters for both a new generation of readers and dedicated fans alike

- Publisher
You May Also Be Interested In
About "Like Gold Refined (#04 in Prairie Legacy Series)"
Her character has been shaped and tempered by both adversity and triumph...

If Virginia could have chosen to accept or discard all the changes that came her way, she gladly would have let most of them pass right by herself and her family. She loved her life--living on the farm with her beloved Jonathan and their children, not far from her parents and her grandparents. But a change that is tearing at her heart is the gradual but steady physical decline in Grandma Marty and Grandpa Clark. She cannot imagine their familiar farm home without their welcoming smiles and their words of wisdom that arise from of decades of life experiences and a solid faith in God.

And their lovely daughter Mindy, who has blessed their home ever since her mother left the tiny child with them, has been encouraged and guided to pray for that mother all these years. Was God answering that prayer, or was the worst nightmare any family could face now upon them?

Returning to the legacy of Marty and Clark Davis from the Love Comes Softly series, Janette Oke has again fashioned a touching frontier series for fans of all ages. Picking up twenty years after Belinda's story from Love Finds a Home, A Prairie Legacy series follows Marty and Clark's grandchildren as they grow in faith and maturity. Heartwarming, and as familiar as a smiling face, Janette Oke's writing introduces a whole new generation of characters for both a new generation of readers and dedicated fans alike

- Publisher
- Koorong


Meet the Author
Janette Oke
Janette Oke was born in Champion, Alberta, Canada, during the depression years. She graduated from Mountain View Bible College in Alberta where she met her husband, Edward. They married in 1957 and served in churches in Calgary and Edmonton, Canada, and Indiana. Oke writes historical novels which portray the lives of early North American settlers from many walks of life and geographical settings. She also writes engaging children's stories and inspiring gift books that warm the heart. Oke published her first book, Love Comes Softly, in 1979. This book experienced immediate success and became a series. She has won a number of awards including the Gold Medallion Award, The Christy Award of Excellence, the 1992 Presidents Award for her significant contribution to the category of Christian fiction from the Evangelical Christian Publishers Association, and in 1999, the Life Impact Award from the Christian Booksellers Association International. Her books have been translated into fourteen languages. Oke has published some 75 books including, The Canadian West, Seasons of the Heart and Women of the West. Her most recent releases include a beautiful childrens picture book, I Wonder...Did Jesus Have a Pet Lamb and The Songs of Acadia series, co-written with T. Davis Bunn. - Publisher.
Other Titles In The "Prairie Legacy" Series View All
$22.99




Order now to secure your copy when our stock arrives. 0 Available. Expected to ship November 2018.

$22.99




Order now to secure your copy when our stock arrives. 0 Available. Expected to ship November 2018.