Listening Prayer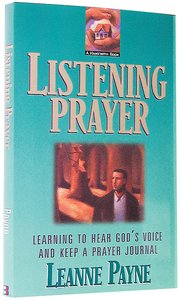 This invaluable book explores the roadblocks that keep us from hearing God's healing word and sets forth a road map for practicing listening prayer. Leanne Payne gives full and clear guidance, including detailed advice on keeping a prayer journal. "This book could help transform private worship for many." - Os Guinness. 210 pages, new edition, from Baker
You May Also Be Interested In
About "Listening Prayer"
This invaluable book explores the roadblocks that keep us from hearing God's healing word and sets forth a road map for practicing listening prayer. Leanne Payne gives full and clear guidance, including detailed advice on keeping a prayer journal. "This book could help transform private worship for many." - Os Guinness. 210 pages, new edition, from Baker
- Koorong

Many today are out of touch with the soul and must learn anew how to listen to God. Through listening prayer, they can experience a fuller prayer life.
- Publisher

264 Pages
- Publisher

Listening Prayer by Leanne Payne is an intensely practical book based on the author's rich experience of how to live now as a servant of Christ and His Word. There is nothing in print that surpasses it in this regard, and perhaps nothing that equals it. . . . You cannot categorize Leanne Payne. You simply have to 'come and see' the intelligence, imagination and courage with which this seasoned and daily associate of Jesus opens doors to the Kingdom.--Dallas WillardHow can I describe a book that brings us into the very presence of God? In Listening Prayer, Leanne Payne causes us to look up and see God in his beauty, love, and splendor. I finished with tears of gratitude for God's indescribable gift.--Rebecca Manley PippertI read Listening Prayer needing to learn. And I did--richly, helpfully, gratefully. This books needs to be read slowsly. It could help transform private worship for many.--Os GuinnessI can imagine no more spiritually sensitive teacher than Leanne Payne to prompt us on a pathway toward a more prayerfully sensitive hearing and responding to God's voice.--Jack W. HayfordThis book will become a modern classic and will be read and used by generations to come. Readers should do themselves a favor and take this book home and take it to heart as soon as possible.--John H. Rodgers Jr.
- Publisher


Meet the Author
Leanne Payne
Leanne Payne is founder and president of Pastoral Care Ministries and has been active in the ministry of healing prayer for more than forty years. She is the author of many articles and books, including Real Presence, Restoring the Christian Soul, and Listening Prayer. Payne lives in Wheaton, Illinois.
Table Of Contents
Preface
introduction
part 1 keeping A Listening Prayer Journal
part 2 listening To God
conclusion: Living Water
appendix A scripture References To Spiritual Battle
appendix B excerpts From The Secret Of Guidance, F. b. Meyer
appendix C prayer Of Repentance To Break With Churchism