Liturgy as a Way of Life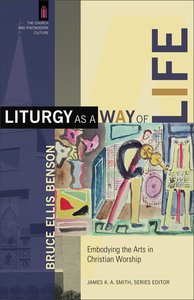 How do the arts inform and cultivate our service to God? In this addition to an award-winning series, distinguished philosopher Bruce Ellis Benson rethinks what it means to be artistic. Rather than viewing art as practiced by the few, he recovers the ancient Christian idea of presenting ourselves to God as works of art, reenvisioning art as the very core of our being: God calls us to improvise as living works of art. Benson also examines the nature of liturgy and connects art and liturgy in a new way. This book will appeal to philosophy, worship/liturgy, art, music, and theology students as well as readers interested in engaging issues of worship and aesthetics in a postmodern context, including Christian artists and worship leaders.

- Publisher
You May Also Be Interested In
About "Liturgy as a Way of Life"
How do the arts inform and cultivate our service to God? In this addition to an award-winning series, distinguished philosopher Bruce Ellis Benson rethinks what it means to be artistic. Rather than viewing art as practiced by the few, he recovers the ancient Christian idea of presenting ourselves to God as works of art, reenvisioning art as the very core of our being: God calls us to improvise as living works of art. Benson also examines the nature of liturgy and connects art and liturgy in a new way. This book will appeal to philosophy, worship/liturgy, art, music, and theology students as well as readers interested in engaging issues of worship and aesthetics in a postmodern context, including Christian artists and worship leaders.
- Publisher


Meet the Author
Bruce Ellis Benson
Dr. Bruce Ellis Benson (PhD.,Katholieke Universiteit Leuven (Belgium), is Professor and Chair of philosophy at Wheaton College. he is the author of a number books on Continental Philosophy Pious Nietzsche: Decadence and Dionysian Faith (Indiana University Press, 2007), The Improvisation of Musical Dialogue: A Phenomenology of Music (Cambridge: Cambridge University Press, 2003. ) Graven Ideologies: Nietzsche, Derrida, and Marion on Modern Idolatry.( Downers Grove, Ill.: IVP, 2002.) and Evangelicals and Empire (Brazos, 2008)
-Editorial Review.
Table Of Contents
Introduction: The Art Of Living
1. The Call And The Response
2. Deconstructing The Discourse Of Art
3. Improvising Like Jazz
4. On Not Being An Artistic Whore
5. Becoming Living Works Of Art
index