Living as a Christian (New Tozer Collection Series)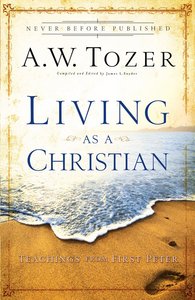 Many modern Christians are familiar with the name, and perhaps even some of the writings of, A.W. Tozer, but few living today were blessed to sit under his weekly teaching from the pulpit. In this never-before-published collection of teachings on 1 Peter, adapted from sermons given to his parishioners, Tozer examines what it means to call oneself a Christian. In his view, to be a recipient of God's salvation is to become "the pride of all heaven," indestructible and able to withstand anything and everything that seeks to undermine one's faith. The Epistle of 1 Peter was written to a group of just such Christians, to encourage them to live in the center of God's redeeming love. Through Tozer's incomparable teaching and commentary, this ancient letter becomes a fresh and life-infusing admonition for today's Christian!

- Publisher
You May Also Be Interested In
About "Living as a Christian (New Tozer Collection Series)"
Many modern Christians are familiar with the name, and perhaps even some of the writings of, A.W. Tozer, but few living today were blessed to sit under his weekly teaching from the pulpit. In this never-before-published collection of teachings on 1 Peter, adapted from sermons given to his parishioners, Tozer examines what it means to call oneself a Christian. In his view, to be a recipient of God's salvation is to become "the pride of all heaven," indestructible and able to withstand anything and everything that seeks to undermine one's faith. The Epistle of 1 Peter was written to a group of just such Christians, to encourage them to live in the center of God's redeeming love. Through Tozer's incomparable teaching and commentary, this ancient letter becomes a fresh and life-infusing admonition for today's Christian!
- Publisher


Meet the Author
A W Tozer
A. W. Tozer died in 1963, but his life and spiritual legacy continue to draw many into a deeper knowledge of God. During his lifetime, Tozer pastored several Christian and Missionary Alliance churches. Missions and the deeper life in Christ were his primary focus. He also served as editor of the Alliance Life. Tozer authored more than 40 books, (at least two of which are considered classics: The Pursuit of God and Knowledge of the Holy), a tremendous accomplishment for a man who never received a formal theological education. The presence of God was his classroom, his notebooks and tools consisted of prayer, God's Word, and the writings of early Christians and theologians, the Puritans, and great men of faith. - Publisher.
Other Titles In The "New Tozer Collection Series" Series View All