Living It Up: The Advanced Survivor's Guide to Anxiety-Free Living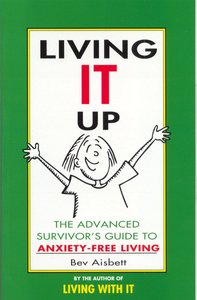 LIVING IT UP offers further hope and guidance for sufferers of anxiety disorders, and valuable insights for those interested in personal development. What is your "IT"? Anger? Fear? Low self-esteem? Depression? Addiction? LIVING IT UP, a sequel to the popular LIVING WITH IT: A Survivor's Guide to Panic Attacks, is a guide to surviving anxiety in its many forms - from the overwhelming terror of Panic Disorder to the less intense but equally destructive daily stresses of modern life. Bev Aisbett, a survivor of Panic Disorder, cartoonist and author, presents a fun, easy-to-read guide to life skills required to transform anxiety into a valuable tool for growth and change.

- Publisher
You May Also Be Interested In
About "Living It Up: The Advanced Survivor's Guide to Anxiety-Free Living"
LIVING IT UP offers further hope and guidance for sufferers of anxiety disorders, and valuable insights for those interested in personal development. What is your "IT"? Anger? Fear? Low self-esteem? Depression? Addiction? LIVING IT UP, a sequel to the popular LIVING WITH IT: A Survivor's Guide to Panic Attacks, is a guide to surviving anxiety in its many forms - from the overwhelming terror of Panic Disorder to the less intense but equally destructive daily stresses of modern life. Bev Aisbett, a survivor of Panic Disorder, cartoonist and author, presents a fun, easy-to-read guide to life skills required to transform anxiety into a valuable tool for growth and change.
- Publisher


Meet the Author
Bev Aisbett
In 1991 Bev Aisbett launched a full-time freelance career in cartooning and illustration. Around this time, Bev experienced an ordeal commonly known as anxiety disorder. Out of this experience she developed the character "IT" which led to the successful publication of Living With IT, Living IT Up and Letting IT Go. Bev has also published Get Real, dealing with body image and eating disorders and in 2000 the successful Taming the Black Dog: A guide to depression.