Living Lessons From God's Word: Angry People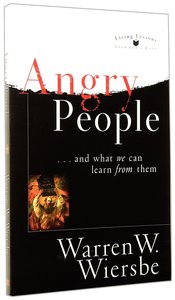 What do Moses, King David, the prophet Jonah, and Jesus Christ have in common? According to Scripture, they all experienced anger. Some experienced righteous anger; for others, their anger was sinful.

In this book, Warren Wiersbe uncovers some surprising insights about anger, an emotion everyone deals with regularly. Using Scripture as his springboard, he examines anger in all its forms, showing how it worked for good or bad in the lives of some of the Bible's most notorious - and righteous - people. As they learn about Elisha, Uzziah, and others who felt the fire of anger, readers will gain a new understanding of how to control this force and use it the way God intended.


- Publisher Looks at a number of biblical characters to offer encouraging biblical perspectives on dealing with anger in the way God intended.

- Publisher
You May Also Be Interested In
About "Living Lessons From God's Word: Angry People"
What do Moses, King David, the prophet Jonah, and Jesus Christ have in common? According to Scripture, they all experienced anger. Some experienced righteous anger; for others, their anger was sinful.

In this book, Warren Wiersbe uncovers some surprising insights about anger, an emotion everyone deals with regularly. Using Scripture as his springboard, he examines anger in all its forms, showing how it worked for good or bad in the lives of some of the Bible's most notorious - and righteous - people. As they learn about Elisha, Uzziah, and others who felt the fire of anger, readers will gain a new understanding of how to control this force and use it the way God intended.

- Publisher

Looks at a number of biblical characters to offer encouraging biblical perspectives on dealing with anger in the way God intended.
- Publisher


Meet the Author
Warren W Wiersbe
Warren W. Wiersbe is a pastor, author, and editor of more than one hundred books, including 50 People Every Christian Should Know; The Dynamics of Preaching, and Through the Year with Warren W. Wiersbe, along with the highly popular BE. Today his primary ministry is serving others through writing, teaching, and speaking at conferences.