Lord's Prayer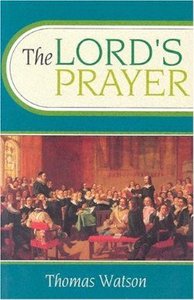 Thomas Watson's exposition of the Lord's Prayer (Matthew 6:9-13) is the third part of his larger work on the Shorter Catechism of the Westminster Assembly. Watson (c. 1620-86) was one of the most popular preachers in London in the Puritan era, as minister of St Stephen's Walbrook.The clarity, raciness & spiritual richness of his writing are nowhere seen more clearly than in this exposition. He analyses the preface of the prayer (Our Father which art in heaven) & the six petitions which follow in considerable detail. His treatment of the words 'Thy kingdom come is particularly full & stirring. Contemporary Christians will obtain practical help in their prayer lives from this sixteenth-century exposition, despite their distance in time from the Puritan age, because of the timeless biblical character of the advice & interpretation given. The other two parts of Watson's exposition of the Shorter Catechism, A Body of Divinity, covering the main topics of the Catechism & The Ten Commandments, an exposition of the moral law, are also available in the same series.

- Publisher Makes up, with A Body of Divinity and The Ten Commandments, Thomas Watson's complete Body of Practical Divinity.

- Publisher
You May Also Be Interested In
About "Lord's Prayer"
Thomas Watson's exposition of the Lord's Prayer (Matthew 6:9-13) is the third part of his larger work on the Shorter Catechism of the Westminster Assembly. Watson (c. 1620-86) was one of the most popular preachers in London in the Puritan era, as minister of St Stephen's Walbrook.The clarity, raciness & spiritual richness of his writing are nowhere seen more clearly than in this exposition. He analyses the preface of the prayer (Our Father which art in heaven) & the six petitions which follow in considerable detail. His treatment of the words 'Thy kingdom come is particularly full & stirring. Contemporary Christians will obtain practical help in their prayer lives from this sixteenth-century exposition, despite their distance in time from the Puritan age, because of the timeless biblical character of the advice & interpretation given. The other two parts of Watson's exposition of the Shorter Catechism, A Body of Divinity, covering the main topics of the Catechism & The Ten Commandments, an exposition of the moral law, are also available in the same series.
- Publisher

Makes up, with A Body of Divinity and The Ten Commandments, Thomas Watson's complete Body of Practical Divinity.
- Publisher


Meet the Author
Thomas Watson
Watson was a 17th Century non-conformist Puritan preacher and author.